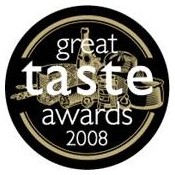 A brand new free guide published by the Guild of Fine Food lists every one of the five-hundred and ninety-six top tasting food and drink products awarded gold in this year's Great Taste Awards along with their star rating.
Taste Gold is an eighty-page guide packed with beautiful photographs of food and drink. It includes interesting stories celebrating the producers and the history of the techniques they use to make their delicious foods. Broken down by region and by star rating, the guide is designed to help sustain local food and drink producers and the regional economies on which they depend.
The Great Taste Awards is one of the benchmarks for the area's finest food and drink – independently judged and independently proven. Every gold award food has been blind tasted and evaluated by at least eight experts and in the case of those winning the coveted two and three stars, no less than sixteen experts have declared these foods 'exquisite and faultless.'
Copies are currently available free of charge from good delis, farm shops, Aga stores and local food festivals.
Chose from the most delicious food and drink in the world and enjoy Christmas.