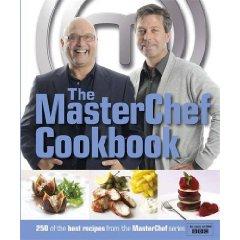 'Cooking doesn't get tougher than this!' Do your kids shout that at you in the kitchen? Ours do. Testament to the power of Masterchef, the TV show that is compulsive viewing up and down the country. Never mind that Baldy and Sweaty don't seem to be in the same room as each other when giving their verdicts, despite the fact that we are supposed to believe that they are, or that Greg Wallace seems to have a limited repertoire of things to say about any dish, falling back time and again on the same comments. Michel Roux Jr is the star as he consistently gives a Master Class in how to speak calmly and authoratively and so he is worth the licence fee alone.
The main dramatic pull is the contestants. Shakespearean tragedies unfold as oer'weening ambition falls at early hurdles and modest mice quietly slay conceited dragons. Some recipes shine, some suck. All human life is on this show and it's hard to switch off. Harder still to go into the kitchen after and regard one's own culinary efforts on the stove, often cooked dry because we forgot to check on things, so mesmerised were we by Torode's clammy upper lip.
Here are the recipes we saw, loved and occasionally hooted at in derision. If you fancied trying some of them out, then now's your chance. 250 of the 'best' from the series over the last years. Starters, vegetables and fish, poultry, meat, game and desserts. Some contestants were celebrities, some professional chefs and some just ordinary cooks like you and me, all aiming to impress with presentation, flavour and aptness.
Wendi Peters serves up Glazed Goat's cheese and beetroot with a pea shoot salad. 2008 champion, barrister, and now chef, James Nathan comes up with Smoked mozzarella ravioli with cherry tomato sauce and basil cream, Susie Carter dishes a perfectly judged Crispy Squid with green peppercorns and chilli dressing. And these are just, literally, for starters.
Ello ello, what's all this then? Detective Sergeant Sarah Whittle swaps handcuffs for spatula and gives a great Roast Cod and clams with bacon mash, creamy shallot sauce and spinach from 2008 while 'Oh Vienna!' Midge Ure does a classic dish of Chicken breast stuffed with Mozzarella on a bed of mushrooms
This book really does have a wide range, which is what makes it so useful. There are dishes here that are Dinner Party fit for purpose and others that can be knocked up for family lunch or dinner. The more you thumb through, the more you see and what to cook and eat.
It's the only cookbook that is by the people for the people, not some chef's artistic statement nor Meat n Potatoes cookery. It's a fund of ideas and it's also a lot of fun.
As 2010's series kicks off, remind yourself of the tears and fears of the last few years by getting this book on your shelf. Coming up with great dishes week in and week out doesn't get any easier than this.
Win a copy of The Masterchef Cookbook here.
{ISBN:1405351705}