Cocktails o'clock!
After work drinks in The City are always tricky business. You want it busy, but not heaving. Musical, but not thumping. Well priced, but not expenses-card expensive. Having been going out in The City for more years than I'd care to admit, I've done almost all of the standard Friday night bars, and danced my deadlines away until 3 AM at all the regular haunts.
Dirty Martini is a small chain of late night cocktail bars. Their first two, in Covent Garden and H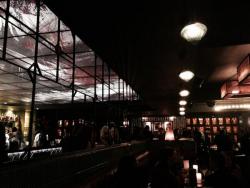 anover Square, were rip-roaring success stories, but until now the gilded glass towers of the City skyscrapers were at least a cab ride away.
Bang opposite Liverpool Street Station, if you want to boogie oogie oogie'till you just can't boogie no more, you can, and in a fantastic location that means you can get home – whether home is further afield, or just across the Thames.
What's in a name?
Starting with the basics, Dirty Martini is a pretty cool name.
Most City bars are confusing three-letter words or are named after counting frames, so Dirty Martini benefits from having a name actually associated with drinking. I come from the Hemingway school of martinis; the dryer, the better. I am also haunted by the need to recreate this scene from Sex and the City.
The choice of cocktails is pretty good – I tried the Pear and Rosemary Martini, which tastes as good as it sounds, and is mixed lovingly with Absolut Mandarin Vodka shaken with Xante Pear liqeur, pressed pear juice, lemon juice and a splash of rosemary syrup.
It is The City  after all, so expect most cocktails to be made with Absolut, the Vodka du jour for 80s excess. If it's not quite vodka o'clock for you, try the prosecco based cocktails (Tango de Paris is not only delish but also conjures up controversial Brando monologues) or the Rum Plunder, made with Goslings Rum, papaya juice, lime juice, orgeat syrup and a dash of Angostura Bitters.
Dirty Martini
158 Bishopsgate London  EC2M 4LN
Mon-Tues 3pm-1am Wed 3pm-3am Thurs-Fri 12pm-3am