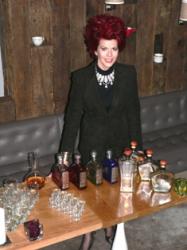 As someone whose experience of tequila has been the occasional margarita and one never-to-be-forgotten night of slammers in Puerta Vallarta, I've always viewed it as a spirit to be approached with some caution, so a night of tequila with The Tequila Society was one that I was a little apprehensive about.
The Tequila Society is the brainchild of Cleo Rocos (yes indeed) and Stuart Freeman, their mission is to bring the variety and versatility of tequila to a wider audience. To that end, they have introduced to the UK a number of tequilas that are otherwise unavailable outside Mexico.
The event was held at The Parlour in Canary Wharf and to ease us into the evening, bar staff had prepared three cocktails: Skinny Cactus Fruit Margarita (tequila, starfruit, lime, cranberry and agave nectar); Skinny Margarita (tequila, fresh lime juice and agave nectar), and Rude Cosmopolitan (tequila, Cointreau, lime and cranberry juice). All were very good, and slipped down extremely easily: as an added bonus, the skinny margaritas come in at under 100 calories per serving, so we could claim a degree of virtue to our drinking.
Having got our tequila mojo with the cocktails, the time came to try some neat tequilas; this is where things got very interesting, with a surprising variety of product across the three brands that we sampled.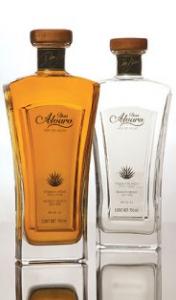 At the entry level, and in the UK for the first time, Don Alvaro comes in two forms; Blanco, a clear spirit, had a delicate agave flavour, and a nice mouth feel, while the gold-hued Anejo has been aged for a minimum of five years in American oak barrels, giving a beautifully complex flavour; both are perfect for sipping, and would make a great introduction to tequila for the uninitiated, but have plenty to offer the more experienced tequila drinker. The Don Alvaro blanco was used in all of the cocktails that we tried, and we can vouch for the quality. Presented in attractive Deco-style bottles, you should expect to pay £22-£28.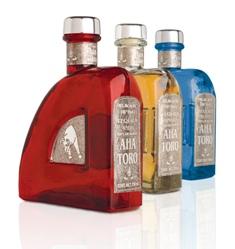 Aha Toro has five varieties, Blanco, Reposado, Anejo, Diva and Tequila Crème. All had good depth of flavour, but Diva was the stand-out; aged for three months in merlot barrels, it takes on a fetching pink shade and a subtle hint of wine on the palate. Stuart said that Diva makes a fabulous martini, and I'm not about to argue with him. Also very interesting was the Tequila Crème, which was described as being similar to the leading cream liqueur, but with less sweetness; this really does it a disservice. The liqueur certainly has a creamy texture, but has a deliciously delicate coffee taste; it was lovely to drink on its own, and is probably sensational in an after-dinner coffee. The Aha Toro also has very distinctive packaging of colourful, hand-blown bottles, and is priced at around £35-£40, with the Tequila Crème around £25.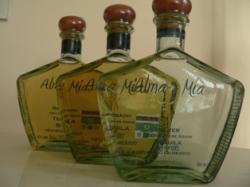 Finally, we tried the top of the range, Alma Mia (My Soul), which comes in Silver, Reposado and Anejo. Newly avalable in the UK, this is a premium brand of tequila; all were smooth and very easy drinking, each having its own distinctive flavour. Silver was nicely smooth, with a full tequila flavour; Reposado is matured for at least three months in French oak barrels, and had an interesting hint of vanilla, while Anejo is matured in these barrels for at least twelve months, and had excellent, complex taste. In its distinctive, hand-blown bottles, Alma Mia is at the higher end of tequilas, and will retail at around the £45 mark; although the price is higher than some other spirits, this is a drink perfect for sipping and savouring, and the quality comes shining through.
We also sampled canapés; having eaten at The Parlour before, and enjoyed the food (you can read our review here), we were keen to try their take on Mexican food. Black bean chilli was very good, creamy, but with the distinctive bean flavour and a punchy chilli note coming through; meatballs were a mix of pork and beef, juicy and packed full of flavour; salt cod had a rich tomato accompaniment, which married the tasty fish very well indeed, while fajitas of beef and chicken were both excellent, tender and full of flavour, with sour cream and a fantastic guacamole on the side.
Of course, the star of the show was tequila: in the past, we had seen it as one of the supporting cast of popular spirits, rather than a leading light, but our evening really gave us cause to see tequila differently. We'll be drinking this delicious spirit more often in the future, and would happily recommend any of the brands that we tasted.
For more information on tequila, visit www.thetequilasociety.co.uk