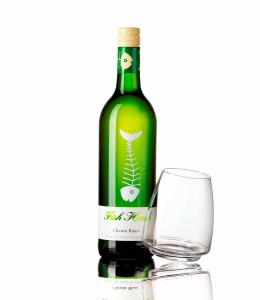 Anyone here remember Weebles? Their catchphrase was 'weebles wobble, but they don't fall down' and they didn't. These 70's egg shaped toys had a low centre of gravity so that no matter how hard you tried you couldn't push them over. You could throw them at your annoying sister and get a satisfying 'thunk' as they bounced off her head, but that's another story.
These Balancé glasses do the same trick. Fill them with wine and give them a flick and they spin and wobble, but the wine stays inside. Handmade from English lead crystal, the design is the result of collaboration between South African wine brand, Fish Hoek, and glassmaker, Dartington Crystal. The stemless Balancé tumbler boasts a unique rounded base, which encourages the wine to breathe as it is swirled around the glass. The name Balancé was chosen to reflect the dancing movement made by the glass – Balancé is a waltzing ballet step, a graceful, rocking, alternation of balance. Etched onto the base of the glass, Fish Hoek's fish symbol appears to swim as the glass moves.
A good idea for any Christmas stocking, Fish Hoek Balancé glasses are available now, exclusively at www.fishhoekwine.com.
Win glasses and wine with Fish Hoek
And if you fancy yourself as a wine connoisseur, you can log on to www.fishhoekwine.com to become a wine critic and win. Enter your thoughts on any of the Fish Hoek wines and you could win an exclusive at-home wine tasting tutorial for two. Bruce Jack, Fish Hoek's award-winning winemaker, will judge the reviews and decide who will win the top prize of a private wine tasting tutorial for two, a pair of limited edition Balancé glasses and a case of Fish Hoek wines. Bruce will also pick ten runners up reviewers who will each receive a case of Fish Hoek wines and a pair of Balancé glasses.
Fish Hoek – The Wines
Fish Hoek Shiraz 2008:
RRP £6.45 in Tesco, Somerfield, Waitrose and independents
A smooth, juicy, medium bodied wine, full of ripe blackberries, plums and subtle spice. Soft and well-balanced, with a long lingering finish.
Fish Hoek Chenin Blanc 2009:
RRP £6.45 in Tesco, Threshers, Somerfield and independents
Lively fruit aromas and upfront tropical flavours combine to deliver a refreshing, juicy palette with a crisp dry finish, a signature Chenin Blanc.
Fish Hoek Sauvignon Blanc 2009:
RRP £6.45 in Waitrose and independents
A twist of fresh lime combines with green fig and gooseberry flavours to create a delicious wine with a lingering finish, pure Sauvignon Blanc.
Fish Hoek Pinotage Rose 2008:
RRP £6.45 in Tesco, Somerfield and independents
An elegant, distinctive, dryer style rosé, offering an abundance of fresh strawberries and ripe cherries to create a sophisticated Pinotage Rose.
Fish Hoek Merlot 2008:
RRP £6.45 in Threshers and independents
Intense red berries and plum flavours delivering a well-balanced, soft and easily accessible Merlot.
Fish Hoek Pinotage 2008:
RRP £6.45 in independents
Medium bodied with rich flavours of mocha chocolate, plums and fruitcake. Well-integrated subtle oak provides a delicious lingering finish to this classic Pinotage.