Where once Smirnoff ruled Duty Free, and countless teenage parties, now comes brand upon brand from Poland, Sweden, Holland and Russia. So many in fact we're in danger of floating on top of the stuff. And to that long list you can add Herefordshire Chase Vodka. And, what's more, it's made from (cue Jeremy Clarkson pause) … potatoes.
Now people have been making powerful spirits from potatoes for a long, long time. A lot of it in prison of course, or in well-guarded holes in the ground deep in the countryside. Mainstream vodka though is mostly made from grain such as corn, rye or wheat, depending on which crop is most plentiful in the local area. The crucial thing is that the principal ingredient must contain a lot of sugar and starch.
In Poland they actually make a form of vodka from just sugar and yeast, which is pretty basic but the people drinking it aren't too fussed about the taste, obviously. The main Vodka Belt countries and producers don't like that sort of thing though and are seeking to have only vodka that is made from grain or potatoes legally labelled 'Vodka'.
Williams Chase English Potato Vodka meets that strict criterion and is the UK's first, and so far only, potato vodka. From home grown Herefordshire potatoes, to the custom-made copper still, to the hand finished bottle, each potato takes 3 weeks to be transformed into velvety vodka. If you watched Oz Clark and James May bicker their way around the UK recently, you'll have seen inside the distillery.
They used to farm potatoes for eating at Chase Farm, but the usual story of being squeezed to extinction on price by supermarkets made them get out. Instead they turned their quality potatoes into their own brand of luxury crisps called Tyrell's. Then a chance encounter with a potato vodka still in the USA encouraged William Chase to do something even better with his spuds and the Williams Chase Distillery was born, using unique equipment carefully sourced and using up the small spuds not suitable for crisps.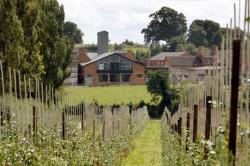 The first bottle rolled off in 2008 and won the Vodka Masters 2008 Gold Medal. No wonder as it has clear quality; drunk cold, or to my preference at room temperature, it feels smoother on the palate than standard vodkas made from grain or rye and actually tastes a little bit like potatoes too, which sounds bad but isn't, think lovely mashed potatoes thick with butter and you get the idea. Chase even feed their cows on the spud residue from the vodka making, so nothing is wasted.
And nothing is taken for granted. The bottle is beautiful, featuring an etched representation of potato roots and it was, like just about everything else, designed and overseen by William Chase, a man who has gone from spud producer fighting a losing battle with supermarkets to a very rich producer of high quality crisps and spirits in quite a short time, thanks to his canny business sense and some brave gambling with large loans.
If you're a vodka fan, i.e. not the sort of person who thinks vodka is best when mixed with fruit juice and then put in a bottle to be sold to under-age drinkers, then this premium vodka is going to be in your drinks cabinet.
It's not cheap, but then it's not Cheap Vodka. This isn't a drug to dull the bus ride to work, as many people around my neck of the woods seem to think, but a gourmet treat to really savour. Next to chips, it's man's greatest potato invention.