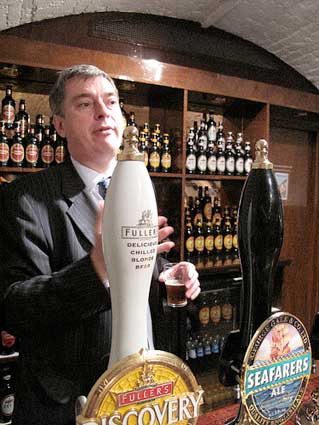 Fuller's will be hosting a 'Meet the Brewer' session with Head Brewer John Keeling, at Taste of London on Thursday 18th June from 5.30pm.
Taste visitors are invited to come along to the Fuller's bar at stand G1 and find out all you wanted to know about the brewing process and what goes into making a damn good ale. John will also be doing mini-tastings and you may even get a few tips on how to make your own brew.
Brewer and pub retailer, Fuller, Smith and Turner P.L.C is London's only remaining traditional family brewer and will be showcasing its beers for the 6th year running at Taste of London later this month. The sell-out event is back this summer in Regent's Park from 18th – 21st June and Fuller's has been a part of the food and drink extravaganza since its conception in 2004.
The popular Fuller's bar, which will be situated opposite the British Airways music stage in stand G1, previously sampled five different ales at the event: London Pride, ESB, Organic Honey Dew, London Porter and Discovery. This year will see the addition of the glorious Golden Pride which is the equivalent of barley wine and has been described as 'the Cognac of beers], and 1845, the only bottle-conditioned beer on the stand. Bottle-conditioned means it is a live beer which continues to ferment in the bottle, adding to the complex development of flavours.
Beer is one of the great unsung partners to food and this chance to be introduced by an expert to the wonderful range of Fullers real ales is one not to be missed.