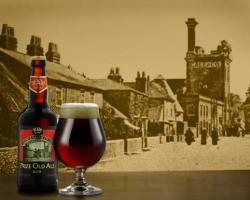 The idea of beer drinkers as all weird beards clutching their CAMRA membership certificates to their anoraked chests is well put to bed these days. British ales are to be enjoyed and cherished, especially in the face of fizzy lager, alcopops and other disgusting drinks. Fullers have brought out the 2008 Gales Old Prize Ale.
Fuller, Smith & Turner P.L.C., London's only traditional brewery has announced that the latest brew of Gales Prize Old Ale is now available to buy exclusively from The Fuller's Brewery Shop and selected Fuller's pubs.
Gales Prize Old Ale is a carefully crafted blend of brews, one aged and one fresh, giving the beer a unique flavour and character. The aged beer, brewed in 2008 and matured for over 18 months, is also seeded with a small amount of the last Prize Old Ale to be brewed at the Gales Brewery in Horndean, Hampshire.
John Keeling, Fuller's head brewer, said: 'Prize Old Ale is one of the most revered beers in the country. Customers ask me questions about it all the time and really can't wait for it to be available.
'Gales' method of fermenting the beer in open vessels gave it some intriguing qualities, particularly a fruity tartness. By adding some of the beer brewed at Horndean to each new release we will maintain some of those characteristics, while blending aged beer and the fresher version gives the finished article a more balanced flavour, as the malty sweetness from the fresh beer kicks in."
True to its exclusive nature, the 2008 Prize Old Ale is only available from The Brewery Shop in Chiswick and a very limited number of Fuller's pubs. T