Fermented drinks delivering loads of flavours and no hangover. We met HighPoint at HotBox
Halfway up (or down depending on your view of London) is HotBox. In Soho its name might be misinterpreted, but in Shoreditch you know it has to mean BBQ.

Here they use a combination of kiln-dried Hickory and Oak in a 1-tonne Rotisserie Smoker to create super smoky meat and, because everyone does it now, vegetarian food too.

Tonight is really all about drink,  new High Point Non Alcoholic drinks.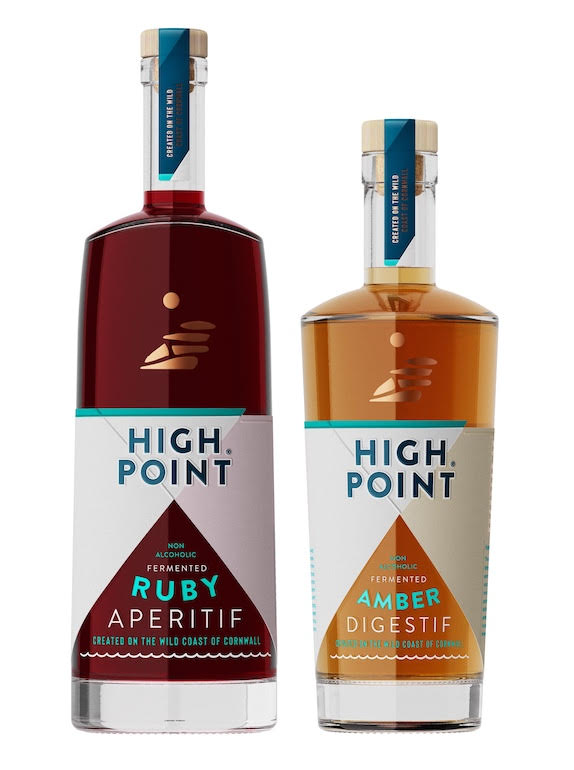 Eddie Lofthouse is here to introduce them. Eddie is the founder of Harbour Brewing, a UK premium craft brewery from Cornwall and High Point Drinks is his first venture into the non-alcoholic category.
Eddie and his team launched High Point Ruby Aperitif and High Point Amber Digestif in August last year, and these are the world's first premium non-alcoholic fermented drinks.


He's enthusiastic, as well he might be. These drinks are distinctive and grown up. The Ruby Aperitif has lots of herbs on the nose plus citrus and spice bittersweet flavours. The ruby colour comes from Hibiscus flowers 'a lot of hibiscus flowers!' Eddie says.

The Amber Digestif has many of the characteristics of a fine whisky with soft smoke and spice, and smooth mouthfeel.You also get hints of vanilla and toffee too. The main ingredients are Lapsang, Ginger, Clove, Vanilla, Cacao Nibs, Gentian Root, Oak

Eddie explains his drinks fermentation process, which is long and complex one, and which took many attempts to perfect, but was 'worth the wait'.

Over a month raw, natural ingredients are brewed and fermented to create the base. Then real fruit, herbs and botanicals are added and the perfect blend created.

Here the experience gained from brewing beer comes in to create the ideal balance of sweet, sour, and spice.

We drank these paired with dishes from HotBox' menus. 

I had some veg options and was impressed at the creativity shown by Chef Lewis Spencer whose main focus is of course usually meat.

Jerk buttered barbecue cauliflower, candied pineapple slice, toasted cashew, coconut creme fraiche for example, and a Charcoal baked sweet potato, tahini creme fraiche, whisky & butter fried onions and watercress. Pescatarians will love the grilled sea bass, pickled fennel, orange, pickled cucumber, dill, chillies and fried leeks.

The HighPoint drinks worked well with everything, especially the smoky amber digestif.

Dry January may be ending soon, but these HighPoint drinks are good for all year round, ideally complimenting food with their adult flavours and giving those not on the sauce something to hold that looks and tastes proper.


High Point Ruby
High Point Ruby is a vibrant fermented aperitif and delicious served as a spritz with tonic and ice. This bittersweet citrus aperitif also works really well when paired with fine food.
Ingredients – Hibiscus, Lavender, Wormwood, Pink Peppercorn, Orange Zest & Pink Grapefruit Zest
Nose – A wild herbal aroma
Taste – A wave of zest and spice that rolls onto your palate with long-lasting bittersweet citrus flavours

Available to purchase from High Point Drinks and Amazon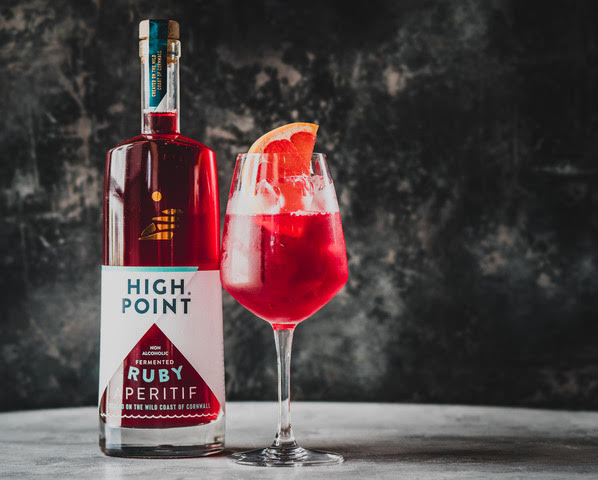 High Point Ruby Spritz
50ml High Point Ruby | 200ml Tonic Water
Build all ingredients in a large wine glass, fill with cubed ice. Garnish with a slice of pink grapefruit.
High Point Ruby – RRP: £19.99 for a 70cl bottle. ABV: 0%.
High Point Amber
High Point Amber is a deeply smoky fermented digestif, which has been cold smoked and aged for one week after blending. Best enjoyed with ginger ale or neat over ice.
Ingredients – Lasag, Ginger, Clove, Vanilla, Cacao Nibs and Gentian Root
Nose – Freshly stoked embers and notes of toffee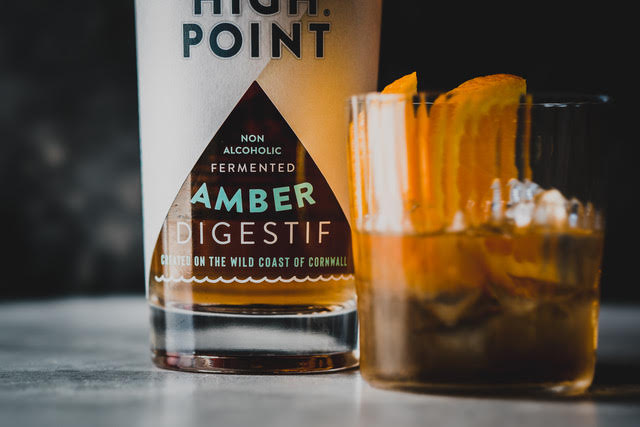 High Point Amber Lowball
50ml High Point Amber | 200ml Ginger Ale
Pour over ice. Add a slice of orange to garnish.
High Point Amber – RRP: £19.99 for a 70cl bottle. ABV: 0%.
Taste – The scent of freshly stoked embers rise up with notes of log-fired toffee before its signature mouthfeel is ignited, and smoke and spice start to gently warm the soul

Available to purchase from High Point Drinks and Amazon