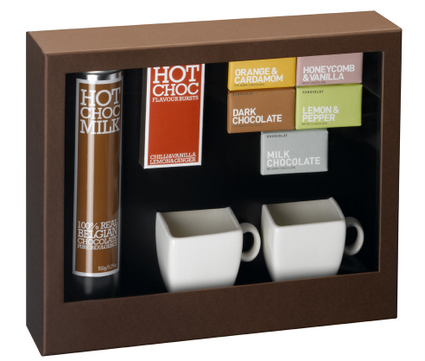 Be careful who you gift a box of Kshocolât's hot chocolate mix this year because they may never be satisfied with their usual mug of cocoa again. Good chocolate alone is enough to send most people spinning into bliss, but when good chocolate is blended into a heavenly drink, its extra special. Kshocolat has now added "flavour bites" to the hot-chocolate-drinking experience.
These little chocolate pieces are spiced with ginger, cardamom, lemon pepper, and honeycomb vanilla and are meant to be melted into an already tongue-thrilling drink. Kshocolat's chocolate drink kits will more than likely please anyone on your Christmas list. The chocolate drink boxes range in price from a basic kit with one mug, flavour melts, and hot chocolate at £5.99. The addition of an extra mug, chocolate bars, and enough mix for two costs £12.99.
To make stuffing stockings easier, Kshocolat has created a chocolate dipping set with marshmallows and honeycombs. And their sampler box of Belgian chocolates would please any party host looking for a treat to share with after-dinner coffee. Candy flavours include Szechuan pepper ganache, almond and espresso praline, and orange and cherry marzipan.
Kshocolât is available at Kshocolât, Westfield London (at the entrance to The Village, by Tag Heuer, Hugo Boss and Links of London), Kshocolât, Buchanan Galleries (220 Buchanan Street, Glasgow), Harvey Nichols, John Lewis and other good retailers, including Sainsbury's. Visit online at www.kshocolat.co.uk