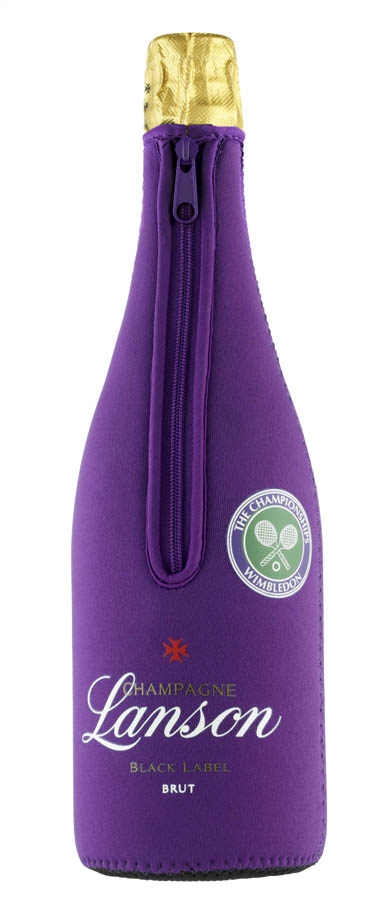 As official Champagne supplier to the world's most prestigious tennis Championships, Wimbledon, Champagne Lanson has long been synonymous with glamorous summer sporting events. Having now added the Aegon British Tennis Series and Newmarket to its roster of summer fun, Champagne Lanson is the Champagne to be seen drinking this season at the UK's top summer sports events.
Those who are lucky enough to get tickets to Wimbledon this year will once again be able to enjoy a glass of Lanson Black Label Brut NV as they mill around the grounds. Its mouth watering acidity and zesty lemon flavours make it a popular treat, with around 17,000 bottles served at last year's Championships. If you've missed out on Wimbledon tickets and don't fancy the long queue, why not transform your garden into Henman Hill with a big screen TV and share a bottle and the action with friends? Conveniently, Champagne Lanson Black Label NV is also available in a special edition Wimbledon neoprene holder, so you can keep it cooler for longer in the sunshine.
If summer is not summer for you without a day socialising at the races, then Newmarket is the place to be this season. As the exclusive supplier at this year's 'Champagne Lanson July Festival', Champagne Lanson will be available throughout the grounds. Enjoy Champagne Lanson Rosé Brut NV at the 'Lanson Pink Bar' as you cheer on the fillies at the finishing line. With aromas of redcurrant, raspberry and forest fruits, it is packed full of flavour yet remains elegant and refreshing. Also available in mini 20cl bottles and recently re-packaged with vibrant pink labels, Champagne Lanson Rosé NV is a luxurious yet affordable treat for any summer party or picnic.
Furthering its link with tennis, Champagne Lanson is also the official champagne supplier to the Aegon British Tennis Series at The Queen's Club, London; Devonshire Park, Eastbourne and Edgbaston Priory Club, Birmingham. Champagne Lanson's delicious range of champagnes is available at the events, including the highly sought after Champagne Lanson Gold Label Vintage 1998. Made only in great vintages, the long ageing develops sumptuous aromas of ripe apricot and peach, coupled with a nutty complexity that makes it a sophisticated choice for celebrating the win of your favourite tennis player or for impressing friends at your next garden party.
Thanks to the traditional way it is made, Champagne Lanson is internationally renowned for its crisp, fresh taste and exceptional purity of fruit, making it the perfect choice for alfresco drinking.
Retail stockists:
Lanson Black Label Brut NV (£27.99): Tesco, Sainsburys, Waitrose, Majestic, Oddbins, First Quench, Bibendum, Partridges, Just Champagne
Lanson Black Label Brut NV in Wimbledon neoprene gift packaging: Tesco (3rd June – 5th July)
Lanson Rosé Brut NV 20cl (£10.49): Waitrose, World Duty Free, Bentalls, Majestic, Bibendum
Lanson Rosé Brut NV 37.5cl (£17.49): Waitrose, Morrisons, Bibendum, Bentalls
Lanson Rosé Brut 75cl (£32.99): Tesco, Sainsburys, Waitrose, Majestic, Bibendum, Just Champagne
Lanson Rose Brut NV 75cl in neoprene gift packaging (£32.99): Tesco, Bentalls, Just Champagne
Lanson Gold Label 1998 (£36.99): Sainsburys, Bibendum, World Duty Free, Majestic, Bentalls, Harrods, Just Champagne

Event Dates:
Aegon British Tennis Series
Aegon Championships at The Queen's Club, London: 8th – 14th June 2009
Aegon International at Devonshire Park, Eastbourne: 13th -20th June 2009
Aegon Classic at Edgbaston Priory Club, Birmingham: 6th-14th June 2009
Wimbledon Tennis Championships: 22nd June – 5th July 2009
Newmarket Racecourses:
Lanson July Festival: 8-10th July 2009
Lanson Ladies Day: Thursday 9th July 2009