Leaf Tea Shop and Bar is a 'punk tea shop' newly opened in the heart of Liverpool. Set on the ground floor of the freshly refurbished uber-cool Liverpool warehouse space- Elevator, Leaf Tea Shop and Bar is like no other venue around, nestled amongst some of the nation's most imaginative artists working spaces including The Zutons, The Rascals, Hot Club de Paris and many more, It is an inspiring space for those in the know and for the cream of Northern talent to hook up and chill out.
Hosting a friendly café in the day the delicious menu is complete with home made scones, cakes and snacks along with a mouthwatering array of over 22 tea infusions from all over the world. Leaf is a comfy hangout to catch up with friends or have a meeting in a cosmopolitan venue on level with art cafes found in Berlin, London and New York.
Leaf Tea's Shop stocks a show-stopping amount of loose tea and offer specialist advice for the serious tea drinker. After dark Leaf Tea Shop transforms itself into one of the cities leading alternative live venues, showcasing the nations best DJs, bands, gallery space, films, art, knitting groups and anything else that takes their fancy.
True to form Leaf Tea Shop & Bar sees in 09 with cutting edge style and January's unique line up is no exception. Thursday 8th January sees Leaf Unplugged in conjunction with Transition, a light and visual celebration review of Liverpool's unique history. Unplugged will showcase a selection of Liverpool's best signed and unsigned talent, and will see them take to the stage to celebrate the success of Capital of Culture 08.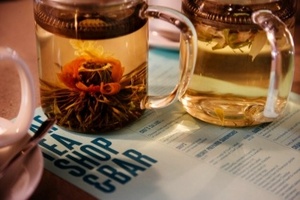 Tuesday 20th January sees Leaf Tea Shop & Bar host Liverpool's very first Tea Tasting Master class. Leaf invites you to become a world Tea Connoisseur, exploring tea from around the world with Leaf's resident tea expert on hand to offer advice and in-depth information on the benefits and history of tea. Come and take a pew and have a classy brew!
What could be better on a cold winter's night than eating your heart out at Leaf's Pudding Club on 28th January? Tuck into a sumptuous three-course dessert dinner, washed down with a selection of specially selected teas to compliment.
Come and get yourself some seriously good one off art on the cheap at the Arena Arts Auction on Friday 30th January. Hosted by the Arena Arts Collective, this night will bring forth some handbags at dawn style action over the selection of artwork up for auction on the night and will only be on show and available to buy at Leaf for one night only.
LISTINGS INFO:
20th Jan -Leaf Tea tasting Master class / £7 book in Advance: 0151 707 7747 / www.thisisleaf.co.uk
28th Jan – Leaf Pudding Club- 7pm-9pm. £5 book in advance: 0151 707 7747 / www.thisisleaf.co.uk
30th Jan – Arena Arts Auction – 5.30 – 9pm. For more information please visit : www.arena.uk.com