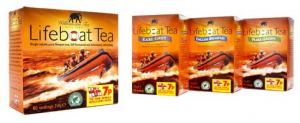 Tea lovers can make a brew to support the Royal National Lifeboat Institution's (RNLI) volunteer crew with the new Lifeboat Tea range. Each of the full bodied, flavoursome teas raise invaluable funds, with 7p from every pack sold going directly to the RNLI to help train and equip the charity's dedicated volunteers*.
Over 165 million cups of tea are consumed daily in the UK** and if each of these brews was a Lifeboat Tea, up to a staggering £231,000 could be raised for the RNLI every day.
The original fundraising tea, which was created over thirty years ago as a mark of gratitude by a sailor and crew saved by the RNLI, has been redesigned and joined by Lifeboat English Breakfast, Lifeboat Earl Grey and Lifeboat Green Tea.
Williamson Tea is a family company with over 140 years of tea expertise. The Lifeboat Tea range is grown on their own Fairtrade and Rainforest Alliance certified farms in Kenya.
Lifeboat Tea is available in four different varieties. Lifeboat Tea (80 tea bags)/ Earl Grey (50 tea bags) / English Breakfast (50 tea bags) / Green Tea (50 tea bags) costs £2.09 and is available now in leading supermarkets, independent stores and RNLI shops. For more information visit, www.lifeboattea.co.uk.
*7p from the sale of each product will be paid in support of the RNLI. Payments are made to RNLI (Enterprises) Ltd, which pays all its taxable profits to the RNLI. A charity registered in England and Wales (209603) and Scotland (SC037736). Charity number CHY 2678 in the Republic of Ireland.
**Tea consumption figures from The Tea Council www.tea.co.uk