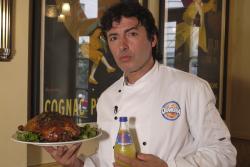 Orangina was founded in 1936 by French entrepreneur Leon Beton with the idea that oranges should be enjoyed all year round, since then Orangina has come a long way with its bulby bottle becoming an iconic emblem in its recognition. The design of the bottle centers on citrus fruits with the body of the bottle resembling the orange itself.
Not only does the bottle resemble an orange but the content itself is 10% orange, with the fruity drink being higher in juice content and including fleshy pulp and zest from the orange peel. The oranges are imported from as far as Argentina, Brazil, Florida and the Mediterranean.
The ingredients are all natural with no added flavourings or colour, instead it is high in its vitamin C content and also contains the fruit juice of lemon, grapefruit and mandarin. Orangina also has a light version with all the great tasting goodness but no added sugar, containing fewer calories.
Remembering Orangina as a favourite childhood drink, I was intrigued to see how Orangina was being re-launched. Was that secret recipe going to be 'new and improved'? Or was the infamous bulby bottle getting a makeover?
I was pleased to find out the sparkling citrus drink enjoyed by over 500million people in 50 different countries was sticking to that delicious recipe and keeping its orange inspired bottle. Instead, chef Jean Christophe Novelli was cooking up an Orangina-inspired menu to mark the occasion.
'I feel very nostalgic towards Orangina as it brings back many happy childhood memories of drinking the soft drink" – Jean Christophe Novelli
The menu was exciting and new consisting of several new Orangina cocktails, with Oranginas gentle sparkling finish it makes a perfect mixer for your favourite summer cocktail. A personal favourite is the 'Strawbina':
Strawbina:
Suggested glass – Collins
Ingredients:
– 60ml White rum
– 30ml Orangina
– 15ml Strawberry puree
– Half a Strawberry to garnish
Method:
– Add 30ml of Orangina, 15ml of Strawberry puree and 60ml of white rum to your cocktail tin
– Fill up with a large scoop of cubed ice and shake
– Pour into your Collins glass and top up with more Orangina if needed
– Garnish with half a fresh strawberry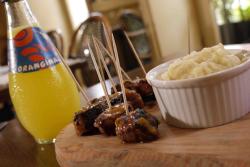 French classics such as Duck a l'orange getting an Orangina inspired twist. I was curious as to how a soft drink could be incorporated into a French meal.
I was pleasantly surprised as the Duck a l'orangina was presented with spicy Orangina syrup used as a glaze creating a crispy outer skin, perfectly complimenting the duck.
Other Orangina inspired favorites were skewers of glazed duck a l'orangina served with celeriac potato mash and smoked salmon Orangina terrine consisting of an Orangina jelly encasing the salmon terrine. The unusual blend of Orangina with French cuisine created a modern twist, inspiring a new menu.
For more fantastic cocktail recipes, log onto Oranginas recently launched Facebook fan page or visit the Orangina website.