Levitating glasses, mysterious billets doux, strange rituals and great food. What's not to love about LPM's fabulous Cocteau cocktail menu?

Jean Cocteau was a French poet, playwright, novelist, designer, filmmaker, visual artist and critic. He wasn't, as far as we know, a mixologist but he certainly liked a drink. And, of course, a bit of opium.

A vastly talented man, he's being celebrated at LPM Restaurant & Bar with a carefully constructed experiential cocktail menu from October 11 that takes inspiration from his remarkable life and works.
So we ambled up for a preview, via a sexy marbled mosaic passageway, to LPM's recently created and very gorgeous bar in a room behind the buzzing restaurant.

First we're handed a lavishly produced, commemorative menu called "Recipes for our Friends" that is filled with Cocteau sketches, snippets of his handwritten notes, the cocktails themselves and the story of what inspired them.
There are four 'chapters' to the story, each featuring three multi-sensory and innovative drinks that it has taken LPM Global Bar Manager Tibor Krascsenics a year to create.
Each has a fair bit of theatre to its making, some of it technological, and all of it fun to watch. And there's lots of ice cube action too, I am a sucker for having giant gin-clear ice cubes and spheres in my glass, I think Cocteau would have approved of that as well.
Tibor knows his stuff; as well as making our drinks he's able to reel off all kinds of fascinating Cocteau facts. Clearly he's done plenty of research to make this experience more fascinating for the guests.

We tried a drink each from all of the four chapters, which meant we got to sample eight in all, or possibly more as there are some slight gaps in my memory, for some reason.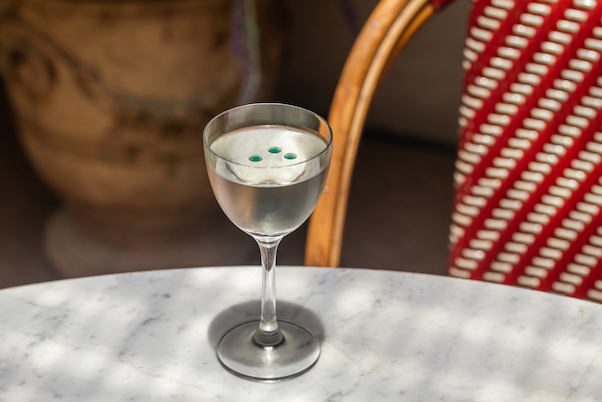 And I can't begin to describe all that we had, especially as my notes are a little smeared, but I do clearly remember the Pablo, which of course references Cocteau's pal Picasso and was a gimlet style drink made from The Botanist gin, tarragon, orange and mint cordial, with three tiny dots of blue-green olive oil floating on top. Pablo loved that colour. We both loved the tarragon hit, so unusual, and the drink was gorgeously smooth.
Lettre à Coco, was about another friendship, that between Cocteau and Coco Chanel. It came with a personal note hidden in a tiny envelope that had been made fragrant with a spritz of her famous perfume.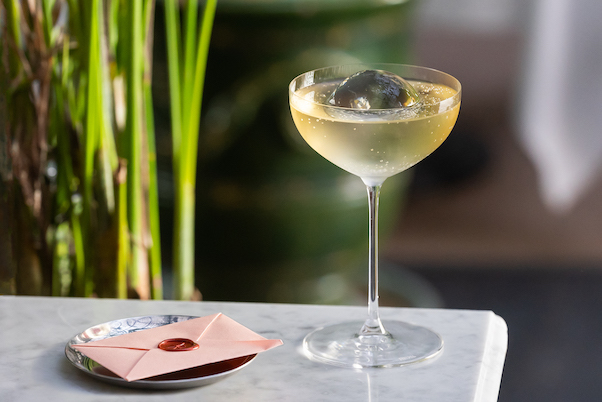 Made from Ketel One, Champagne cordial, jasmine, bergamot and rose this one again had us cooing with happiness.

And it's not all drinks, small snacks are on hand to help blot up the booze. Crispy tangles of deep fried squid, a creamy butter bean hummus, crisp lattice crackers topped with rich, dark, tapenade and cod brandade croquettes all went down a storm.

We didn't get to try one of the showstopper cocktails, Room 22, which is a classic Absinthe fountain where drinkers take water from four individual taps to add to their absinthe. All very decadent stuff.


We did try Trinity, a mix of Bacardi Ocho Rum, cacao, strawberry, Islay honey water and bitters, a drink that is served in a way that makes you question your own eyes but I won't spoil that surprise for you.

I have to say all this reignited my love of cocktails, which suffered a bit in the 1980s owing to a lot of sugar and suggestive names which would get any bar cancelled today. Done with this much creativity, skill and a wry sense of humour cocktails rock and the Cocteau Menu is a real triumph and a great idea for a group of four so everyone gets to sip something a little surreal

The Jean Cocteau Menu launches at LPM Restaurant & Bar on Monday 11th October
The global menu also launches in Dubai and Abu Dhabi, Miami and Hong Kong by the end of the year.
Address: 53-54 Brook's Mews, London W1K 4EG
Phone Number: 020 7495 4774
Website: www.lpmrestaurants.com/
Instagram: www.instagram.com/lpmlondon/
Opening Hours:
• Mon-Tues: closed
• Weds: Lunch only
• Thurs-sat: 12-2:30, 6-10:30
• Sunday: 12-3:30pm
Dress Code: Smart casual. No shorts or sportswear. Smart trainers are acceptable.