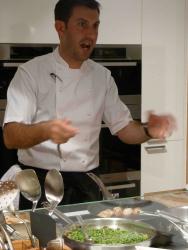 Ah, Harrods. Anyone over 50 years old is likely to remember the days when going to Harrods meant dressing up in best clothes, catching a train and heading for the food hall to stand in awe in front of the fish display before exploring every department, with increasingly tense and tired toes struggling to keep going in seldom worn, specially polished shoes.
It continued to be the place to go for small, glamorous presents for special occasions, even if everything else was beyond the reach of early salary wallets. Then there were the fallow years when boycotting it, because of its controversial owner, was the thing to do. For the last two years it has been owned by the Quatari royal family so back I was happy to go.
After a major refurbishment, the Harrods cookshops are jaw droppingly captivating, the route to them, through sparkling glass and china, dangerously distracting. I've never seen so many knives, of specific interest at this evening event: a chop, slice and dice masterclass from Mark Sargeant, once Gordon Ramsay's most famous protégé as head chef at Gordon Ramsay's Claridges. He was there to introduce us to Zwilling knives, with blades made from 101 layers of steel, compressed, grinded and sandblasted. Mark's favourite has a flower damask finish and a handle 'as lovely as the knife". Impressively, Zwilling knives can be sharpened by sweeping the blade across a newspaper which causes a carbon reaction, a fact which transported me back to the chemistry lab at school and some disastrous experiments with a bunsen burner.
There was no chance for us to play with those knives. We watched, ate and listened while Mark chopped, sliced and diced with a cheffy speed of which I am so envious. Instead, we picked up tips while guzzling on a richly garlicky houmous, bold taramasalata and a silken, smokey baked aubergine purée (all served at Rocksalt, Mark's restaurant in Folkestone); a smooth, creamy, bright green and surprisingly subtle wild garlic soup; a summery, palate-cleansing çeviche of sea bass (farmed, because it's such a good price); decorative, scallops and minted peas their sweetness balanced by a hint of garlic and a touch of Noilly Prat in a light, foamy sauce made with shallots, fish stock and a little cream; and a hot-smoked salmon, chorizo and pea paella, the least impressive dish that evening, perhaps because all the others were so much more refined. All were cooked in front of us, with a cheery commentary from Mark as he guided us through the skills you need to cook as he does.
Mark Sargeant's tips and snippets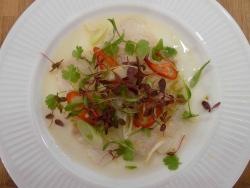 Ceviche: Successfully skinning or filleting fish depends on the knife and the freshness of the fish. Traditionally, a filleting knife is flexible but Mark prefers a more rigid blade. He counselled us to let the knife do the work, guiding it rather than forcing it along the central bone. Remove all pin bones using tweezers, pulling them out at the same angle as the bones to keep the flesh neat. Slices should not be too thin; you need a bit of texture. Keep the marinade light: a little ginger; a dash of soya sauce; a sprinkle of lime zest; a drizzle of lime juice; a flick of sesame oil; a fleck of finely sliced red chillies for a mild kick (Mark doesn't remove the seeds and membranes); a few slices, cut on an angle, of the white of a spring onion. Serve almost immediately – it should still be lightly raw – decorated with coriander cress and red amaranth. So easy and quick, so pretty and impressive.
Chopping boards: All this fuss about using colour coded chopping boards is 'nonsense", a scare tactic driven by perceived rather than actual risks. Bamboo boards are the best, not only because they are naturally antiseptic. Next come wooden boards.
Garlic: Mark doesn't crush garlic; in his opinion, it makes the flavour harsher. It must be fresh; if it has a green core it will be harsh and worse on the breath. Simply add a peeled clove to butter and oil, taking care not to let it get too brown.
Herbs: Mint is Mark's second favourite herb, after coriander. There is no need to deleaf mint; the stalks at the top are tender enough for serving. The inference (unspoken) is that the leaves lower down, on their chunkier stalks, are not worth using.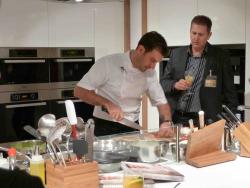 Knives: Always buy knives with lifetime guarantees. A blunt knife is the most dangerous, as we all know but ignore. Every time you use a knife, sharpen it before you put it away; a few strokes on a steel (or, if you have a Zwilling knife, a newspaper) should be enough to keep them sharp. Once blunt, it needs a professional's touch at a sharpening stone. The shape of a knife determines the control you have over the task (it is not a gimmick to make you buy more knives) as does the way you hold it (curl all your fingers round the handle, keep your thumb on the handle, too).
Peas: Mark is not a pea snob, declaring that trozen peas are 'one of the most amazing inventions". Rinse them in water before using them, to get rid of icy lumps.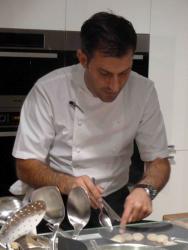 Scallops: Well, guess what. 'I can't stand" scallops, Mark confessed. 'They are too sweet, too rich, when cooked"; he does, however, eat them in çeviche. Eating in restaurants, chefs usually send them out as a special treat so he now pre-empts that by saying, before he arrives, that he's allergic to them. He never serves the roes. Scallops are like sponges so don't soak them to clean them; you will never achieve the brown, caramelised surfaces that make them so delicious. Instead, dip them in and out of cold water two or three times then pat them dry gently on a J cloth. Season them (see below) with a fine spray of sea salt mixed half and half with curry or five spice powder. In a very hot pan, add a small amount of oil; cook them for 30 seconds then turn them, cooking them for another 30 seconds so they remain rare in the centre. To make this easy, think of the pan as a clock face and put the first scallop in at noon; continue round clockwise and when you reach the end of the circle it will be time to turn them, starting at noon again. Mark turned them with a dessert spoon and a finger in a delicate swift and smooth move.
Seasoning: Black pepper is 'one of the best things in the world". Mark always uses seasalt – Rocksalt, he said, laughing – preferring a very fine salt for sprinkling. As all chefs do, he recommends seasoning by spraying from a height because it spreads the salt evenly. Hmmm, that should make me sweep my kitchen floor more often, I thought.
Shallots: Mark always uses banana shallots because they are easier to peel and chop, and their colour is more lively. (That's a relief; I've always felt guilty for not using short stumpy shallots because they are so fiddly to prepare.)
Utensils: Buy good pans. Use silicone utensils.
And finally …
Mark's guilty pleasures: Bad aeroplane food and a drive-thru McDonald's cheeseburger and chocolate milk shake. And this from a man who from the age of eight, watching Keith Floyd on television, knew he wanted to be a chef.
The evening was huge fun. With about 20 in the group, we were close enough to see everything Mark was doing and to ask him questions throughout, wishing tasks were as easy at home as they were in front of us.
Look out for more masterclasses, demonstrations or Q&A sessions in the spectacularly refurbished Harrods cookshops but, please, if you have any dietary restrictions, food allergies or intolerances – either don't book or let the organisers know well before you arrive. While it was interesting to see how Mark handled the unexpected revelation that our group included one non-meat eater, two people who didn't like fish and another two who couldn't eat pork, it meant he had to fit in an additional task, and think throughout the evening about what he might do. They got a stir-fry, which they declared delicious.