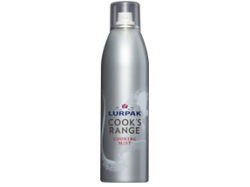 'Psssssssst.Psssssst!' now there's a sound you don't hear all that often in the kitchen. I'm spraying Lurpak's Cooking Mist onto my chicken prior to roasting the bird. The aerosol mist means that the mixture of oil and butter perfectly coats the chicken finely, evenly and gets into every crevice. Try doing that with a tear of greaseproof paper and a pat of butter.
You can also, and I am ashamed to say that I tried this, squirt it straight into your mouth. The first breath freshener with the great taste and aroma of butter, it's bound to attract members of the opposite sex who like their food. I did also, for a second, consider spraying it on myself too, but then thought better of it. The grease marks on my shirt would probably never come out.
The Cooking Mist is from the new Lurpak Cook's Range we've been experimenting with for the past few weeks. We've already enjoyed trying the Clarified Butter and Cooking Liquid and found them worthy products, the mist we were however initiallybut unecessarily a bit suspicious of.
There have been spray on products before, usually marketed with the angle of health and slimming properties – you use less when you spray. I still have a pump-up bottle bought in a weak moment and then buried under the stairs with the Ronco Button Master.
This is though I think the first of its kind to combine butter with oil, possibly because butter on its own might clog the spray? You'd have to ask a scientist. In any case Lurpak seemed to have solved that particular problem because there's not been a hint of sprayfail yet in our testing.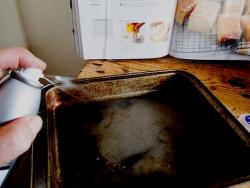 The mist doesn't need refrigeration, another indication that the ratio is more oil than butter. This is a good thing as most people already have enough clutter in their fridges. Instead it can be kept to hand next to the olive oil bottle, the bag of sea salt and the pepper grinder and be always ready for action.
And it gets a lot of action; just having it there on the side makes you more adventurous. Where you might have slugged a glug of oil into the pan, you instead spray. The mist has a high smoke point so can fry anything, but you always get that delicious buttery taste and golden result.
It's great for greasing tins and baking trays; far more efficient and less hassle than wiping round with butter. In a few seconds the bakeware has an even, micron thin layer of grease and importantly no ungreased spots to cause stickiness and cursing when it comes to getting the food onto the table.
It made pork crackling pretty darned good too. Of course you don't'need' to baste pork skin but I couldn't think of a good reason not to try, I mean what could go wrong? The mist makes it easy to spray on the initial coat and then to sneakily spray a bit more on after 15 minutes of high heat blasting. The spray is so powerful you feel your hand kick back like Dirty Harry firing his Magnum .357 and this gets the oil onto the pork without the need to expose your mitts to the full heat of the oven.
Basically it's another winner from Lurpak who really do seem to have put some decent thought into this Cook's Range.
Try this recipe using Cooking Mist   –  Cote de boeuf with oven chips and chimichurri
Lurpak Cook's Range Cooking Mist £2.70 rrp 200 ml