It's not every day one dines in David Moore's bedroom, albeit now converted into the private dining room at 'Pied-à-Terre', Charlotte Street. The décor, best described as subdued theatrical, is based around a glossy glass table – apparently delivered by a gauche builder who filled inevitable cracks with a handy tube of epoxy. This is echoed by an identical ceiling plate (minus the fractures) from which a beaded light awning dangles, warmly drenching diners like balls on pool table baize. By contrast, a hellish, hectic, bloodly Howard Hodgkin's scene sharply contrasts a tall, gilt-edged dolls house, now doubling as a glass store.
I had been lured to the former boudoir of the respected restaurateur and judge of TV's 'The Restaurant' with the promise of fizz. And I was not alone. A cast of culinary icons, including chefs, Pierre Koffman, Thierry Tomasin and Rowley Leigh; front of house notables, Silvano Giraldin and Enzo Cassini, and Champagne authority, Michael Edwards had gathered to hear the venerable Madame Vranken of Champagne house, Pommery gently guide us through a truffle-themed menu.
But gazing down at the silver sauce spoon, I felt trepidation. I wondered whether chef Shane Osborn's style, which I had only glimpsed during a special menu with Brett Graham at Selfridge's Gallery, would approximate the damp, fussed, overly ambitious food of his protégé, Marcus Eaves (head chef at Moore's more recent 'L'Autre Pied', Marylebone). Of Eaves, I perhaps cruelly once remarked, 'I really got a sense of his personality spunkily blasting through onto the puréed, emulsioned, foamed and moussed plates – great fare for denture-adventurers…'
Recovering the First Brut
And despite noble origins – Madame Pommery must be Champagne's best-known widow after the veuve Clicquot, carving 18kms of cellars, inventing the brut style and mastering export – I had reservations about the quality of the wine today. Since the Pommery family ceased running the house three decades before, the brand, unloved was banded around multiple owners, most recently from luxury behemoth, 'Louis Vuitton Moet Hennessey' (note, handbags go first), to Vranken in 2002 – albeit only after they stripped its vineyards away.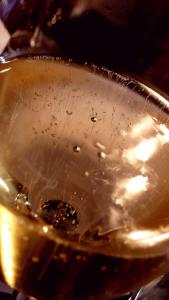 After ethereal pastry canapés served in the deep carpeted upstairs bar with invigorating, sherbet-scented, grapefruit zesty Brut Apanage, we sat down to distractingly good scallops. Sealed to crisp perfection, but almost impossibly tenderly centred, the saline morsels nudged chicken oysters, or 'sot-l'y-laisse' ('only a fool would leave it'). They were so gently extricated and carefully cooked that at least one guest suspected them of being the scallops missing roes. On the palate, these reacted well with brisk, momentarily braised baby gem lettuce, shiny under cosy lemon balm essence. Alas the promised hit of black truffle, which must have been crushed over the 'oysters', was remote. Regardless, unlike Eaves' preference for space food, I was so delighted to find texture – to hear my teeth bite – that I admitted my previous negative experience to Moore. Possibly because the capably fearsome television judge now felt meek under the potential judgement of so many of his peers, and possibly because he was seduced by the gently tinted Apanage rosé, modelled by cellar-master, Thierry Gasco on a formula from 1928, he didn't scald me. Instead he revealed a paternal tenderness towards his charges. 'They're so young at L'Autre Pied, handling the pressure of a £1m turnover and critical expectation – just kids really compared to us at Pied-à-Terre.'
176 Shades of Pink?
The world may never know how many shades of pink there are, although this barely ripe, raspberry flavoured wine looked too light to sell according to the burly Tomasin (of Paddington's 'Angelus'). He feared diners would think it an oxidised white on sight rather than a delicate pink. Disregarding Pantone, I thought it lithe, dry and delicious and absolutely refreshing between mouthfuls.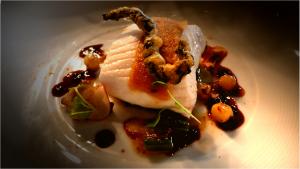 The next dish: paper white, meltingly leafing poached halibut, moist beneath a thin but deeply satisfying truffle crust. It was adorned with pert green beans, Pommery mustard and a ragout of 'crosnes', which whirring pixellated internet brain Google tells me are mild tubers. Eyes on my dish, Moore looked forlorn. 'I've never eaten that – if I go near halibut or seabass, I've got 15-minutes before I become very ill indeed.'
Bringing a tinge of slightly tart briar fruit, and being the weightiest wine so far, Wintertime Blanc de Noirs, a white made from red grape juice not shown the skins (part of the four seasons collection launched in the '90's) meant the best, most even-powered match so far.
The most profound marriage however, was gamey, poached and roasted guinea fowl breast with buttery truffled leeks, oyster mushrooms, crisp confit garlic parcels (on par with maze Grill's) and lustrous foie gras sauce. Named after Madame Pommery's daughter, the slick, toasted hazelnut scented 11-year-old Cuvée Louise acted on the palate as a plate, i.e. always present and supportive under the food's flavours and textures.
Fame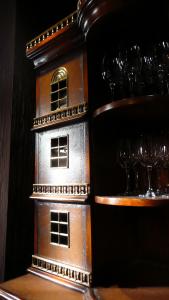 During the cheese course of carefully kept Comté vieux and Brillat-Savarin, I asked Moore how he coped with television stardom. He said: 'I remember watching the first series of 'The Restaurant' and thinking 'I could do that."' Having risen, as a young man, to the role of head waiter at 'Le Manoir aux Quat'Saisons' (then unheard of as a Brit), he was already known and trusted by patron, Raymond Blanc. 'So that's what I did.' But does fame have drawbacks? 'I seem to change the dynamic if going into a meeting of professionals, like, sommeliers, and can be seen as an outsider by my peers. There was also the time an old lady recognised me as I sank my teeth into a McDonald's burger. She expressed horror, but I just smiled coyly and whispered, 'Ssshh!"'
A confidently minimalistic tile of plain chocolate tarte had the spring of velour. Made only with Chardonnay, Falltime Extra Dry (which is actually rather sweet) added a honeysuckle edge to the bitter cocoa.
Over the four-hour lunch, conversation topics had rolled into amusing territory, with many nods and tuts reserved for a Pakistani mango farmer turned culture minister. Now deceased, the hedonist apparently plagued haute cuisine restaurants with his laissez-faire approach to reservations. Moore said, 'at le Manoir, he used to phone to announce he was taking junction 8A (our turning) and expected a table. When told we were full, he insisted on speaking to the sommelier, blithely enquiring, 'so how many bottles of Pétrus '45 do you have?"'
Revolving Restaurant
Osborn holidaying under the sun, his sous chef had cooked a standout lunch. As we stepped onto a dusky Charlotte Street, fatter and more bubbly than before, Koffman gestured to the BT Tower, whose revolving restaurant is expected to open soon. 'They asked me to do it', he said, 'although honestly, it won't need a name.'
In my albeit limited experience of fizz-only menus, the craving for a full-blooded red simply exacerbates with each flute. However, despite being jilted in recent history, eight years on from Vranken's acquisition, what was arguably Champagne's most progressive estate seems fighting fit…
www.pied-a-terre.co.uk – 34 Charlotte St., London
Find these wines on www.wine-searcher.com