George Bernard Shaw famously said that the USA and UK are 'two countries divided by a common language', thus earning himself a permanent place on quiz show question lists on both sides of the Atlantic.
Food and cooking is where perhaps we see it most and particularly in measurements. This shouldn't put us off exploring the cuisine of a country that didn't go multicultural overnight but which began that way with immigrants who came, and continue to come, from all over the world.
Carol Egbert paints and cooks in the Vermont village of Quechee and posts on her website www.carolegbert.com. She will be sending us a fresh recipe once a month.
Her dishes are simple to make, family friendly, tasty and often inspired by food from nearby farms and markets. Cakes and bakes feature strongly, food that make a kitchenwarm and a home even warmer.
Carol has translated most of her measurements into UK friendly ones for us and some of her descriptions too. We may still be divided by our common language,but hopefully with Carol's recipes we can move a bit closer on the food front.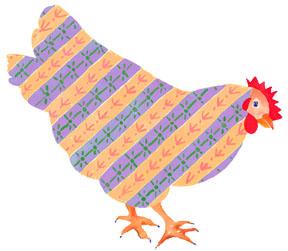 What is it about chicken soup? There is a series of inspirational books titled Chicken Soup for the Soul, John Steinbeck talks about it in East of Eden, Moshe ben Mainmon, a twelfth century Egyptian physician and philosopher, recognized it as a remedy for cold symptoms and his advice has been supported by evidence from a scientific study done at an American university. My resolution to cook simple food that tastes even better the next day and the poem Chicken Soup with Rice, written by Maurice Sendak and set to music by Carole King, inspired me to make my favorite chicken soup.
In February it will be
My snowman's anniversary
With cake for him and soup for me!
Happy once, happy twice
Cooking chicken soup can be an all day affair but by beginning with chicken broth and a rotisserie chicken from the market, I had a full flavored, body-and-soul warming soup ready in less than an hour. Here's how I did it:
Basic Chicken Soup
I combined two liters of chicken stock and one liter of water in a large stockpot, covered it and put it on the stove, while it heated; I shredded the meat and put the skin and bones into the broth. After the broth had simmered for twenty minutes, I used a colander to strain the broth into a large bowl and discarded the skin and bones.
I put the empty stock pot on medium heat and added 30g of unsalted butter, two large onions cut in 5mm slices, three medium peeled carrots cut in 5mm rounds, three medium stalks of celery cut into 5mm slices, a teaspoon of dried thyme and two cloves of peeled, sliced garlic. I sauteed the vegetables until they were soft, about ten minutes, and then added the broth and shredded chicken to the vegetables. When it had simmered for five minutes, I added a bit of salt and pepper and had chicken soup ready to serve.
I have often spent a few more minutes to make Chili Chicken Soup with Beans. Here's how, with a few simple additions, I elevated a basic soup to an inspired soup:
Chili Chicken Soup with Beans
I sauteed 30g of chili powder, 10g of ground cumin and one seeded and diced jalapeno pepper with the vegetables. When I added the broth and chicken to the pot, I also added a large tin, about 800g, of diced tomatoes, 450g of frozen sweet corn, two medium tins, about 440g each, of beans, one black and one white, that had been drained and rinsed. I topped each serving with freshly chopped cilantro and a spoonful of sour cream.
Except for the extra time it took for the larger volume of soup to reach a simmer and the opening of cans and rinsing of beans, I had enough soup for a couple of dinners and lunch for most of the week.
If you agree with Maurice Sendak and Carole King and want to sip chicken soup with rice, here's how to do it: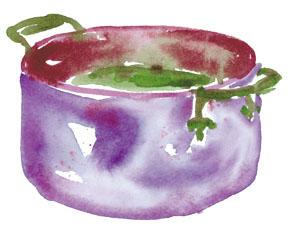 Chicken Soup with Rice
Include 140g of uncooked rice and an additional 500ml of broth when you add the broth and chicken to the vegetables and simmer the soup until the rice is tender. Top each serving with chopped, flat leaf parsley.
Chicken soup appears in nearly every cuisine with additions that include dumplings, noodles, tortillas, lemon juice, curry powder, coconut milk, star anise, eggs, vinegar, cheese or mushrooms.
Perhaps that's what it is about chicken soup – it's the 'basic black dress" in a cook's soup closet. The possibilities are endless and who knows, it may even cure the common cold.