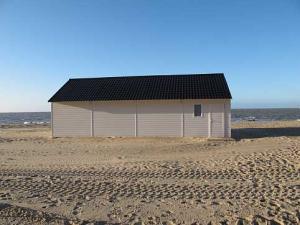 If you jumped off Margate pier and swam directly east you would arrive, after a few hours frantic breaststroke, in Knokke Heist in Belgium. As you staggered up the golden beach to the promenade you might think you were in Los Angeles though. That's because Ferraris, Maseratis, Porsches, Bentleys – more status cars than Jeremy Clarkson can shake a gear stick at – can all be seen cruising past couture shops surely more at home in Beverley Hills than Belgium. This is a seriously rich area that's for sure.
Which explains why the Flanders coast has so many Michelin Star restaurants, all vying for the local euro. I was over to visit one in particular, Bartholomeus in Knokke, but on the journey up there from Ostend I was able to take in a lot more of what the Flanders coast has to offer and get a taste of what makes it such a great and unusual foodie weekend break destination.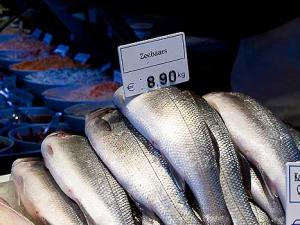 I didn't swim there of course, there are far easier ways. My Eurostar to Brussels took just two hours from St Pancras (quicker than some people's daily commute into work) and the local train to Ostend just a few hours more. Leaving London at 8:30 I was in Ostend (all Eurostar tickets to Brussels include free onward travel to any Belgian destination by local train) at 12 and ready to eat.
At the station you can borrow pushbikes for free, a great concept that isn't spoilt by people nicking the bikes when you leave them, as happened when the idea was tried in the UK. The flatness of Flanders, plus Ostend's bike friendly lanes, means even a cyclophobe and overweight lump like me can make easy progress.
Despite being out of season, and with a cold wind like a knife coming in off the North Sea, Ostend cuts a fine figure. All along the wide front are seafood restaurants competing for business and the locals stroll along seemingly oblivious to the icy blasts that are almost lifting me off my wheels. It's a good kind of cold though, it's coming from an azure blue sky and makes you feel alive.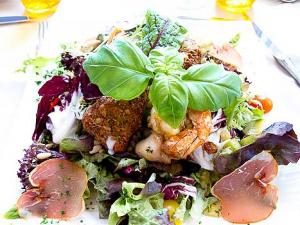 Not knowing the area, and desperate for food and a warm up, I could perhaps have chosen better than Ocean. The place was packed, and clearly a popular spot though. It had a fine sea view through its conservatory windows and was cheerily modern inside. Local shrimp croquettes were, so a local insisted, clearly home made and while I was to eat better the next day they weren't at all bad. Beautifully creamy inside with lots of the little brown shrimps caught that morning and boiled in seawater on the boat back, as the law insists. You get to eat a lot of shrimp in Flanders by the way, but you won't find me complaining.
Salad to follow suffered from the bad provincial habit of chucking in everything but the kitchen sink – chicken, prawn, lettuces of all sorts, deep fried camembert, pine nuts, ham and all topped off with what appeared to be a whole basil plant. Obviously done to justify what was a hefty price tag, it defeated the purpose of a salad – to be a light lunch. It was gruesome enough for me to take a blog-tastic picture for you to judge for yourself. Fifteen minutes later I still hadn't managed to reduce the heap by any appreciable amount but I had at least drunk all the Riesling and felt it was time to see some more of Ostend.
Where's Marvin Gaye?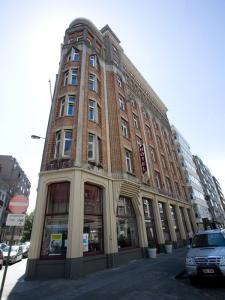 The bike was still there, its lock unnecessary, and off I pedalled to claim my bed for the night at the Sandton Mondo Hotel, a marvellous piece of reclaimed art deco that's been given a deeply trendy boutique makeover, yet still manages to preserve the Gotham City feel of its external architecture and detailing. The rooms had whitewashed boards and striped wallpaper and it felt very intimate and classy, definitely one for couples looking for something special. It's in the very heart of Ostend and just walking distance from the beach and the sea front, several restaurants, bars and museums, and the famous Casino Kursaal which dominates a town where, would you believe, Marvin Gaye once lived for a time? In 1981 he escaped his increasing personal woes and lived in the town, shunning drugs and jogging, getting fit again and even recording and playing there. No one knew who he was, and no one cared and that was what he wanted. He must have stood out a bit though against the locals.
Mussel power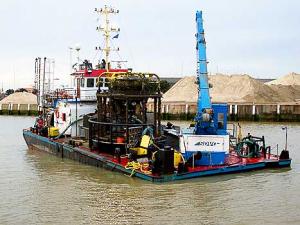 After a quick post lunch snooze I mounted up again and made my way to Nieuwpoort which, translates unsurprisingly as New Port. Here were fish shops like I've never seen before and I've been around a bit, fish squeakily-fresh, bulging clear eyes, piled up in abundance. Heaps of sea bass, of flounder, plaice, cod, monkfish, prawns, oysters and mussels the list was endless. If you like fish, you will like Ostend.
Across the way on the quay I met a man who farms mussels by lowering massive iron cages wrapped in rope out at sea, the ropes being then seeded with baby mussels. This, he explained, is a modern method and more effective than the usual technique of hanging 10m ropes from rafts. As we spoke the harvesting boat was coming back in, its gunwales at one end only a few scary inches above the water. This is because the boat fills itself up with seawater before returning so that the mussels can then be soaked for 24 hours to purge themselves of any lingering traces of grit. There is plenty of seawater outside the shed of course, but not as pure as that brought back from the deep ocean.
Mussels and more (mussels)
You can't be in Belgium and not eat mussels of course, so that evening firmly wrapped up against the cold I strolled through town to De Mosselbeurs which, as you might guess, is a mussel restaurant.
I expected a cutesy place, all nets and floats, instead it was modern and clean-lined and actually on a residential street so that from my window seat I could see the man across the way smoking no-hands and bathed in the benign blue glow of his PC monitor. I didn't care to wonder what he was looking at. Belgian people can be, like Dutch people, cheerfully honest, 'ya it is de strong porno that I am looking at. You want see also?'
Faced with a menu of every kind of Mussel combo known to man I just asked for three sample bowls of the ones that I fancied the most. With cream and garlic, with fennel and Ricard and, what a wonderful concept this was, the day's special with scotch! The bottled beer recommended by the cheerful waiter I swallowed in seconds and then noticed it was 9%. That's getting on for Tramp Strength Lager and I felt it almost immediately.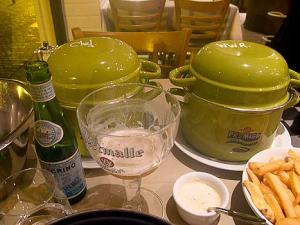 Three great steaming metal bowls full of mussels soon turned up, the contents helpfully written on the lids in chalk. Plus a great big brimming bowlful of wonderful looking chips with, of course, the obligatory mayo to go with them. Mayonnaise and chips is one of the Flemish gourmet gifts to the world, I vividly remember first encountering this heavenly combo on a school trip to Amsterdam. While my peers geared up to buy some hash in the coffee shop, I was already heading off for my second, different, fix of the evening – more chips from the van on the bridge.
These too were great chips, all clearly hand-cut. The mussels were just as good, if a bit gritty in places. 'I thought the man up the road soaks them for 24 hours to get rid of the grit?' I said to the waiter. 'Maybe,' he replied, 'but we get ours from the Netherlands, they are cheaper.' So much for supporting your local suppliers eh?
The garlic and cream mussels I wasn't too keen on because the cream tasted odd – not off but odd – I suspect it may have been Long Life or whatever the Flemish equivalent is. 'Loong Lief', probably. The Ricard ones were great though, with hunks of vegetables including fennel (of course) bobbing about alongside the mussels. The day's special with Scotch was rather good too, very warming and mixed well with the beer inside me to produce a feeling of well being. What made me even more cheerful was that the waiter noticed I had let some of my chips go cold, so he brought another heaped bowlful. Now that's Michelin Star service in my book
Rolling out back into the cold, and walking back through a peaceful town; clean, well ordered and thus unlike any UK seaside town I can think of.
On to the Heist
Next day I had an appointment after my very good breakfast in the art deco hotel dining room, with the chef at De Bistronoon, to go to the fish market and make the classic Flemish coast dish of Smeus – mashed potato, buttermilk, poached egg and lots of fresh brown shrimp. You can read more about that here. Then after lunch it was off on the road to Knokke Heist only stopping at a very old and traditional bar where apart from knocking back lots of various beers, I had the standard bar snack of more of those lovely little fresh brown shrimps – you peel them and pop them in your mouth and wash them down with beer. It beats pork scratchings any day then, feeling gassy and well fed, I rolled into Knokke Heist itself, clocking the fancy cars and even fancier house that abound in this luxury coastal resort.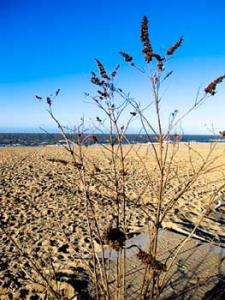 Here the hotel was the Hotel Britannia, a massive place that was custom built in 1926 to accommodate the discerning Flemish holiday maker. Large windows on all sides spray sunshine and light into grand, gloriously old-fashioned, public rooms and an ancient cabinet style lift creaks you slowly up and down its three floors. With the light fading I headed for the beach; miles of sand all lit by the North sea sky and even now, cold and windy, a place for walkers and dog walkers to congregate and take in the bracing air. A bit too bracing for me, I walked back past shops showing Gucci and Armani to fur clad females from the expensive villas and made ready for dinner at Cedric, one of the towns many pricey but classy restaurants.
The lady from the tourist board who took me there needlessly apologised that all the Michelin Star places in town were closed mid week as it was out of season! Cedric certainly put up a good show though, with chef/patron Cedric Poncelet himself ambling out for a chat. 'Classic dishes with a light contemporary dishes with proper respect for the product', he explained about his style.
Certainly his version of those local prawn croquettes Garnaalkroketten ' Artisanaal illustrated that, the filling was refined and billowy light, the exterior perfectly fried off as was the parsley that came with it, while a main of Gebraden Kreeft met Lookboter, Wilde Rijst, Boter met Bieslook en Gekonfijde Tomaten (Roasted lobster in garlic with wild rice, chive butter and confit tomato) was a classic from fine dining history that actually didn't seem old fashioned, but was rather decadent and delicious. At 30 Euros it was however expensive, thanks to the exchange rate, but that wasn't Cedric's fault and in fact this stately restaurant has plenty of set menus and individual dishes that are actually very good value for what you're getting, even for cash-strapped Brits clutching their wallets in agony. If Cedric was an example of a Knokke Heist restaurant without a star, then the ones with had to be good. I would find out how good when I visited Bartholomeus next day, but that will have to wait until next week.
Restaurant Ocean Albert, I Promenade 64, 8400 Ostend
Restaurant De Mosselbeurs, Dwarsstraat 10 8400 Ostend www.demosselbeurs.be
Mondo Hotel Ostend – Leon Spillaertstraat 1 – 8400 Ostend www.mondohotel.be
Hotel Britannia Elizabethlaan 85 B-8300 KNOKKE www.hotelbritannia.be
Foodepedia travelled to Ostend with the kind assistance of Visit Flanders, the Ostend Tourist Board, the Knokke Heist tourist board and Eurostar.
Eurostar operates up to 10 daily services from London St Pancras International to Brussels with return fares from £59. All Eurostar tickets to Brussels are valid to/from any Belgian station at no extra cost. Tickets are available from eurostar.com or 08705 186 186. Fastest London-Brussels journey time is 1h51 minutes.