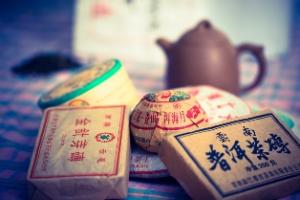 Having heard that the Canton Tea Co had recently been awarded eight Golds in 2010's Guild of Fine Food Great Taste awards, it seemed only right that we should try some of these prize winning teas for ourselves to see what all the fuss was about.
Of their entries, Canton's handmade Bai Lin Gong Fu Black tea won the top prize of Three Star Gold to become one of only 91 products out of 6,017entries to achieve this. Two of their teas, the Ali Shan Oolong from Taiwan and Jasmine Pearls each took Two Star Gold awards. And their Vietnamese Puerh, Silver Needle, Meng Ding Huang Ya Yellow Tea, Pouchong and Milan Dan Cong all won One Star Gold awards. Quite some achievement!
We chose five of these eight prize winners from the Canton Tea Co range to sample and report back on, here is what we thought.
The Bai Lin Gong Fu has an inviting fragrant smell to it. It is a black tea with body that is round and soft on the palate, there is a hint of malt and caramel in its flavour and a slight edge in its finish.
The Jasmine Pearls have a heady floral fragrance both in their dry state and in the bouquet you get from the cup as you drink it. Jasmine comes through very strongly in the taste together with a grassiness and a hint of bergamot on the palate in its finish. With good length in the mouth, it is a very pleasant drink.
The Vietnamese Puerh had a full rounded flavour with a slight earthiness to it and a lovely creamy finish on the palate, leaving you nicely refreshed.
The Silver Needle had a grassy/straw fragrance that came through in the mouth with a hint of malt, making a tea that was light and refreshing with good length on the palate.
The Pouchong is lovely and delicate with a light grassiness and soft creamy feel on the palate, there is a hint of sweetness and slight apricot, and citrus notes develop in the mouth after drinking it.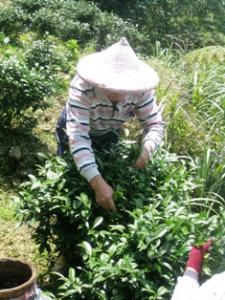 We understand that the canton Tea Co source their teas from small family run farms where they are hand-picked and grown free from chemical pesticides and fertilizers. Having tried these five teas, I can report that they are all very good indeed. Many of the Canton Tea Co teas retail at around the £6 mark for 50g, which might seem a little expensive, but when you consider the quality of the product and the fact that most of these teas can, or indeed, should be brewed as many as four times before throwing the leaves away, they are remarkably good value.
Foodepedia has been in discussion with the people at the Canton Tea Co and has agreed a special promotion for our readers. All first orders from foodepedia readers will be subject to a 15% discount when using the code – foodepedia – in making their order, this offer holds until 30 September 2010, so now would be a good time to try some.
The Canton Tea Co's teas are available online and can be delivered across the country. To view their range of teas, tea making accessories gifts and hampers, or for more information, go to: www.cantonteaco.com