Carrot cake is a wonderful Easter classic which, with the addition of sweet potato and butter milk, is incredibly moist and moreish. 

Finished with a smooth cream cheese and vanilla frosting, along with the optional addition of crushed walnuts, it makes for a stunning centrepiece. 
The recipe does have quite a few ingredients but the whole thing can be whipped up quickly and easily if you're using an Artisan Stand Mixer with the right attachments (which come as standard with the mixer). 
Carrot & Sweet Potato Cake (Serves 10)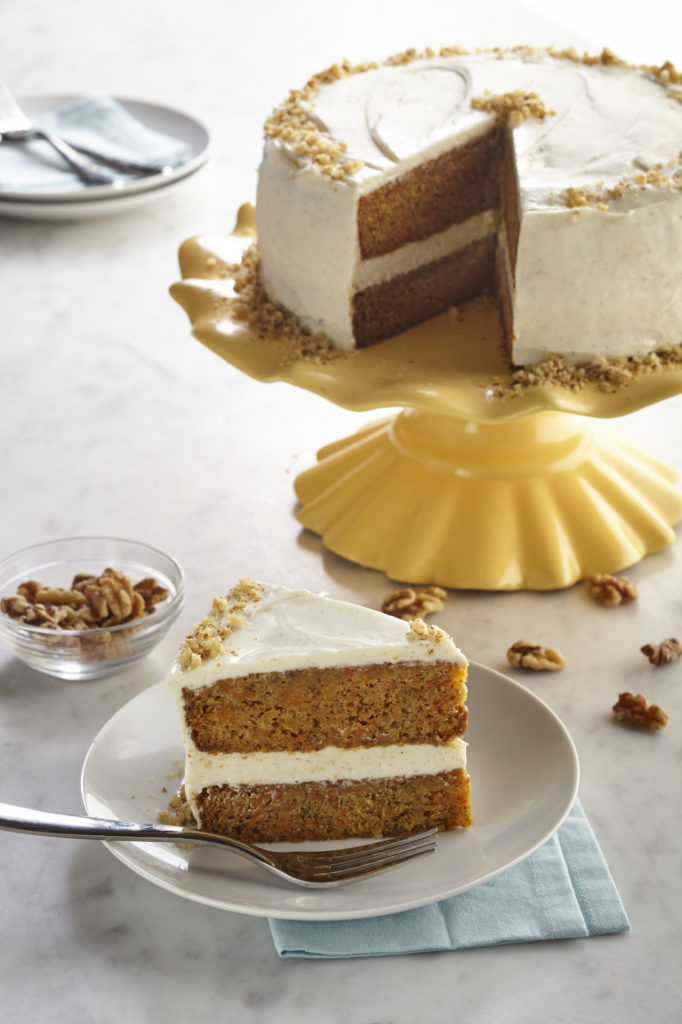 Ingredients:
2 sweet potatoes (medium, peeled and coarse grated)
3 large carrots (peeled and coarse grated)
4 large eggs
250ml vegetable oil
140 ml buttermilk
2 teaspoons vanilla extract
320g plain flour
320g sugar
1 teaspoon cinnamon
1 teaspoon ground cloves
1 teaspoon ground ginger
1 1/2 teaspoons baking powder
1/2 teaspoon salt
1/2 teaspoon allspice
226g butter (room temperature)
450g cream cheese (room temperature)
123g sour cream
1 whole vanilla bean (cut open and scraped)
500g icing sugar
75g chopped walnuts (optional)
Method:
1. Heat oven to 160°C and line bottom of two 9″ cake pans with grease-proof paper
2. ln the bowl of a KitchenAid 4.8L Stand Mixer with flat beater secured, add eggs, oil, vanilla and buttermilk and turn to speed 3, mix until incorporated, then add the sweet potatoes and carrots and mix together
3. ln another bowl, sift together the flour, sugar, cinnamon, clove, ginger, baking soda, baking powder, salt and allspice
4. Slowly add the dry ingredients to the wet and mix by hand with a spatula until all ingredients are incorporated. Divide the cake mix between the two pans and bake for 25 to 30 minutes or until the centre is firm
5. Remove from the oven and cool on a rack
6. To prepare the frosting, put the cream cheese, sour cream and vanilla into the bowl of the Stand Mixer with the wire whip attached and mix on 6 until the mixture is smooth. Cover one cake with about a centimetre of the frosting (or as little or as much as you fancy), place the other cake on top then frost the top and sides and scatter the chopped walnuts around the edge
The Artisan Stand Mixer (RRP £529) and Artisan K400 Bender (RRP £299) in NEW HONEY are available from kitchenaid.co.uk. 
www.kitchenaid.co.uk | @kitchenaid_uk | #MakeItTogether