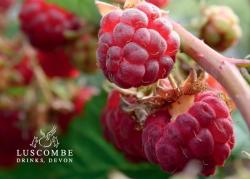 I've never tasted a drink as refreshingly fruity as Luscombe's Raspberry Lemonade. It really does taste like you're drinking the very essence of that little red berry we all love so dearly. The team at Luscombe in Devon has been busy refining one of its firm favourites, reducing the time it takes to get the raspberries from the bush into the bottle. The result? A lemonade that is even zingier and fresher on the palate.
Once picked, the raspberries are pressed and carefully blended with Luscombe's Sicilian lemons, spring water and a touch of Madagascan Vanilla. There are no additives, colourings, enhancers, preservatives or short cuts of any kind, meaning the Luscombe Raspberry Lemonade retains the delicate character of the fruit it is made with.
Made in Devon, all Luscombe drinks are crafted with care. There are no compromises; only the best goes in the bottle. Sold in 74cl and 32cl bottles at independent retailers nationwide, online at riverford.co.uk and abelandcole.co.uk and leading department stores including Harvey Nichols, Fortnum & Mason and Harrods. Luscombe Drinks are priced from £1.50.

LUSCOMBE RASPBERRY COOLER COCKTAIL
INGREDIENTS
25ml Havana Club7 year old
25ml Chambord Raspberry liqueur
1tsp Brown sugar
Luscombe Raspberry Lemonade
2 Lime wedges
METHOD
Shake & strain Chambord Raspberry liqueur, Havana Club 7 year old & brown sugar over an ice filled glass.
Top with Luscombe Raspberry Lemonade.
Garnish with Lime.