Made with pressed ginger juice, blossom honey, organic apple cider vinegar and a hint of chillI and inspired by the Anglo-American 'shrub-making tradition'.

My partner is a ginger fiend. I don't mean she's a day walker, one of those poor people with ginger hair, but someone who loves fresh ginger.

Every night as soon as the last drop of wine is gone, around 10pm, she's in the kitchen peeling a ginger root ready to make a hot ginger drink. And no wonder.

Fresh ginger's health properties are almost legendary.

It's from the same family as turmeric and is said to alleviate mild nausea and morning sickness, it's a potent anti-inflammatory, it soothes the intestinal tract and can even help manage cholesterol levels, as well as lower blood pressure.

And it's also, I can say from experience, rather delicious. What more could you want from a drink?

A 'switchel' is a classic old American drink that farmers kept in mason jars stored in running waters for daytime refreshment. It also spiced up cocktails,and was popular during the Prohibition-era.
The vinegar element helps make the drink even more refreshing as well as accent the flavours. Plus cider vinegar is often held up as one of those wonder foods that help general wellbeing.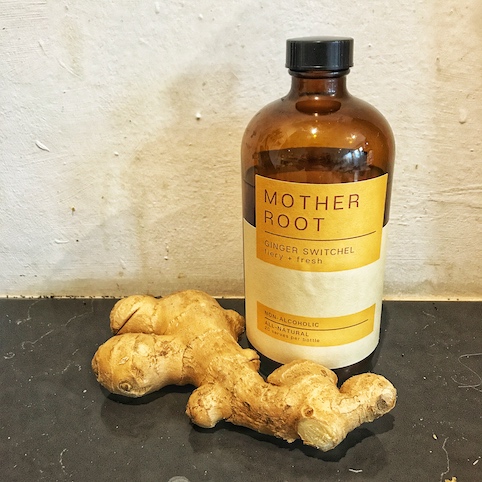 For their switchel, Mother Root have taken the best bits of ginger , added blossom honey, organic apple cider vinegar and chillI to create a concentrate that can be diluted with all kinds of things
Make a pre-dinner non – alcoholic aperitif and serve over ice with sparkling water or a light tonic, add a slice of orange and a sprig of rosemary.

My partner has been steaming through our bottle and I've joined in, adding spirits of course. I love the bite of the ginger against the fizz of soda.


Each bottle, which has a rather charming old-worlde medicine bottle design, has enough for 20 serves and once opened will keep in the fridge for 28 days.
A bottle is around £19.00 so that's a £1.00 a drink, sounds pricey but think what a can of P***i costs, and how so not good for you that is!
You can buy it on Amazon or on Mother Root's website

Mother Root has created a selection of delicious recipes , great for any occasion
Mother Root is available at www.motherroot.london and from quality independent retailers nationwide. Priced from £19.00 (480 ml- 20 serves) or £8.90 (120 ml – 5 serves).