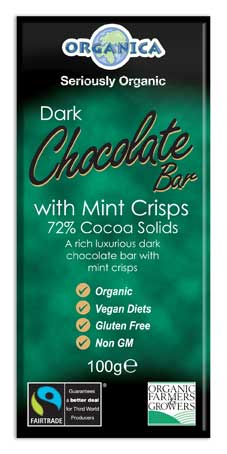 The luxurious, dark chocolate bar range from Organica is now made from beautifully smooth Belgian chocolate. The rich and delicious 72% cocoa solid organic, fairly traded chocolate is prepared from organic ingredients and is free from GM products and harmful hydrogenated fat. What's more, the cocoa in Organica chocolate has been grown without the use of pesticides, in a way which benefits the environment and is supportive of communities in the developing world. So you can satisfy your conscience as well as your taste buds!
The new dark Belgian chocolate Organica range comprises:
(All are gluten-free and suitable for vegans)
Food of the Gods (100g)
This is a must for serious chocoholics! The 72% dark chocolate contains crunchy cocoa nibs reminiscent of the early days of chocolate, when the Maya priests presented cocoa seeds as offerings to the gods.

Plain Dark Belgian Chocolate (100g and new 75g)
This plain dark bar contains 72% cocoa solids and is ever popular among discerning chocolate fans. Coming soon is a thinner bar with a delightful 'snap' for those who prefer a more delicate bite.

Plain Dark Belgian Chocolate with Mint Crisps (100g)
This improved bar now has more cocoa solids (72% up from 65%) and more delicious mint crisps (15% up from 10%). Perfect after dinner – or any time!
Organica Chocolate is approved by The Organic Farmers and Growers and is made using ethically-derived ingredients from accredited Third World trading projects.
Find it in good independent health food shops and stockists listed at www.seriouslyorganic.co.uk. It is priced at around £2.09 per 100g bar and £1.79 for the new 75g bar.