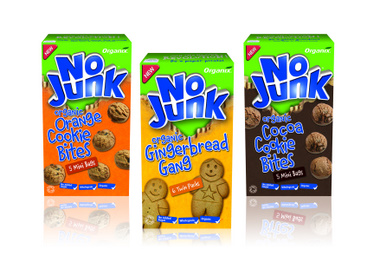 Parents searching for healthier snacks for their kids will now find organic biscuits on many store shelves. "No Junk" biscuits flavored with ginger, orange, or cocoa are now going to be in Sainsburys and Waitrose from January. And every pack of biscuits contains details of a fun eco-activity that aims to get youngsters interested in the environment. At www.nojunkrevolution.com children can sign up to become No Junk Revolutionaries and learn more about how they can change the world!
The "No Junk" range of tasty organic biscuits has been specially created with children aged five to ten in mind and to be sold alongside other children's biscuits in the mainstream biscuit aisle. Not only are the foods packed full of pure organic ingredients, but they have no added sugar, no hydrogenated fat and no nasty additives. Instead, they are naturally sweetened with grape juice. And they're also made with wholegrain flour, which means hungry little people stay fuller for longer.
The No Junk all-star line-up includes:
No Junk Organic Gingerbread Gang – full of hearty wholegrains with a wicked ginger kick!
No Junk Organic Orange Cookie Bites – mini bags of yummy cookies with a citrus twist!
No Junk Organic Cocoa Cookie Bites – scrumptious bite-size biccies with no added nasties!
The straightforward brand name might not get kids throwing temper tantrums right away if mom doesn't add "No Junk" to the shopping basket, though. But when it does, it's going to be great! "No Junk" "No Junk" "No Junk." The No Junk range of biscuits costs £1.49 per packet and is available from good health food shops, select Morrisons stores, through the Ocado website and in Sainsburys and Waitrose from January.