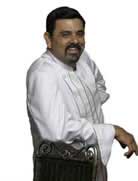 Contemporary restaurant-goers enjoy knowing the history and healing properties of the meals they sit down to. A new menu created by Chef/Patron Cyrus Todiwala at Café Spice Namasté will share with customers the history of both Asian and Indian spices. And for every plate sold, the café will donate one dollar to Oxfam. Customers will learn the history and uses of masalas, red chilis, and 'Kaari' the South India term meaning 'curry".
While Westerners often mistake 'curry" to mean a single spice it's actual meaning is simply 'cooked in a lot of sauce". Chef Cyrus will share the history and development of dishes like Chicken Maelacha Curry which originated in the Parsee community of Malaysia, an immigrant sect of the ancient Zoroastrian religion. The dish is flavoured with lime leaves, lemon grass, chillies and blended with cubes of pumpkin and sweet potato. Other menu items will include Kerala Nyannd Kaari, a very spicy curry simmered with crab dumplings. Kaeng Phed, another menu highlight, is a red Thai curry that combines fresh vegetables & mushrooms and is served with steamed rice.
On Wednesday 26th November Chef Cyrus will be judging National Curry Weeks 'Can You Handle the Heat" competition at the World Food Market in the Excel Centre.