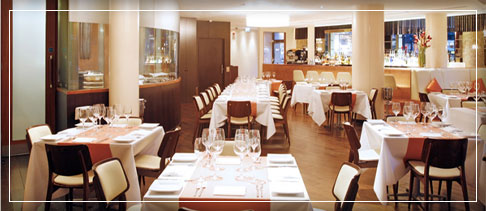 Moti Mahal, the chic and contemporary Indian restaurant in Covent Garden has a choice of two Christmas set menus, which will be available until 23 December 2008. Set Menu One, with a selection of five main course dishes, a starter and dessert will be priced at £36 per person. The starter of Grilled chicken with cracked pepper and cranberry raita, will be followed by a selection of main courses including: Karraree Macchi flash grilled sea bream with sweet potato salad; Laal Maans a spicy lamb curry from Rajasthan; Dal Makhani a black lentil speciality from northwest India; Gobhi Palak cauliflower tossed with baby spinach and roasted peanuts; and Aloo Harra Shaniya baby potatoes with coriander and cumin; accompanied by saffron baked rice and tandoor bread. Dessert will be a traditional Indian Kulfi.
Set Menu Two, priced at £44 per person, will include an array of luxurious ingredients. Guests will be offered a choice of two starter dishes: Lamb kebabs with cashew, fig and pecorino; or Tandoori salmon with peppered mousse. Main courses will include: Allepy Konch Raost roasted jumbo prawns, chickpea and mussel broth with ginger and curry leaf; Murgh Methi Biriyani chicken cooked with basmati rice and fenugreek; Hiren ka korma venison stew with rose petal and cardimon; Saag Paneer paneer with creamed spinach; and Dal Makhani; accompanied by saffron baked rice, raita and tandoor baked bread. This will be followed by berry sponge served with whisky ice-cream, caramelised fig and banana.
A vegetarian set menu will also be available priced at £36 per person.
The cuisine is created by the Head Chef Anirudh Arora, who worked as a Sous Chef at Benares for two and a half years. Prior to this Ani worked with the prestigious Oberoi Hotel Group in India. Ani's Indian cuisine is plated and displayed in an elegant European style. Ani and Moti Mahal were recently featured on BBC2 MasterChef.
Located on two floors Moti Mahal is modern in design with glass chandeliers, dark wood flooring, taupe walls and cream leather seating. The upstairs dining room can seat 60 guests. The lower floor, with its own separate bar and dance floor, is perfect for private parties of up to 35 people seated or 80 people standing buffet-style.
With its friendly and professional service, sophisticated design and refined cuisine, coupled with the contemporary background music, Moti Mahal is the ideal location to celebrate the festive season.