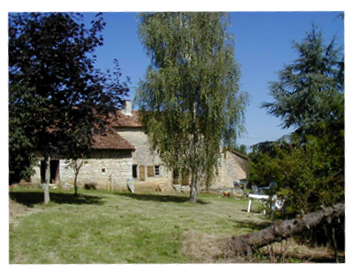 Le Coussot is situated near Beaulieu sur Sonnette in the beautiful Charente. The area is quiet and untouched with a slow pace of life. All around are fields of sunflowers and maize with some vineyards for cognac. Le Coussot is a 15th century building now sympathetically restored and retaining its unique period features.
There are four bedrooms, two bathrooms, two sitting rooms and a kitchen diner. Two bedrooms have low beamed ceilings. The kitchen is the 15th Century heart of the building and features a massive fireplace and a typical Charentaise cobbled stone floor worn into shape by over 400 years of use.
The house is at the end of a lane that is only used by two houses and the occasional farm tractor. Because the house was originally a chateau it has the remains of a tower behind and a commanding view of the valley below. Unlike a farmhouse Le Coussot was built to be lived in on two floors by a rich family. It now has has three floors. There is an attached open sided barn (hangar), a disused dairy and a large detached barn.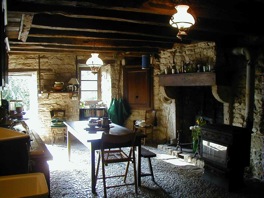 And finally For those people interested in classic chemical photography, Le Coussot has a fully equipped black and white darkroom. Located in one of the rooms in the old dairy, it remains cool enough to work in even on the hottest days. All the equipment is there to develop and print 35 mm films up to around 12 x 16 on a Vivitar enlarger with Nikkor lens. Simply tell us what paper and chemicals you require and we will arrange for them to be there and send you a copy of the shop invoice for separate payment.
The house is still available for some weeks this year at a bargain £250 a week.
Find put more and see more pictures at www.charentehome.com