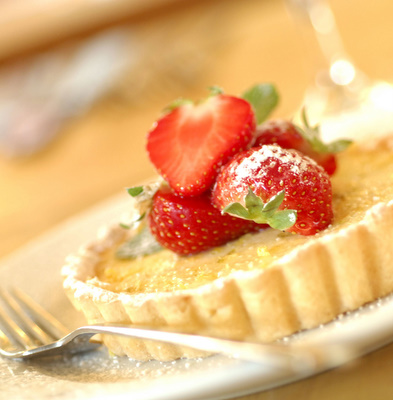 Every Thursday in November and December, Port Isaac's Harbour Restaurant is running a special dinner deal: After buying a starter and main course, the pudding or cheese course is free. And for those entertaining at home, The Harbour's recently-launched catering service prepares and delivers your meals within forty-eight hours.
The Harbour's menu changes daily to take advantage of fresh ingredients, with a strong weighting to locally-caught fish. Typical dishes include starters of pan-fried Falmouth Bay scallops with horseradish cream and green leaves; and a Cornish blue, pear and walnut salad with zesty orange dressing. Fish dishes form the backbone of the main course menu, which features fillet of sea bass topped with baby leeks and tarragon cream sauce; while The Harbour fish pie, combining smoked haddock, mullet, bass and prawns, is a hearty supper for chilly nights.
Prices start from £5.50 for starters and £12.50 for main course dishes. The offer is available on Thursday evenings from 7pm and does not include wine or beverages. The full menu and order form can be downloaded from: http://www.theharbourportisaac.com/delivery-service.asp Delivery is available within a five mile radius from Port Isaac, including Rock, Polzeath and Chapel Amble. Orders can also be collected from the restaurant by arrangement.
Opening dates and times: November, December, January
The Harbour is open from Tuesday to Saturday from 7pm for dinner. Closed Sunday and Monday.
The restaurant will be closed from Sunday 11th January 2009 for just under four weeks, re-opening on Thursday 5th February 2009.