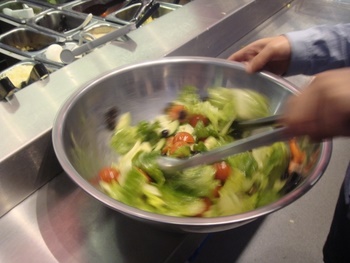 This year, stick with your New Years' Resolutions with the help of "Tossed", the next generation of healthy eating venues around London. Tossed has devised three, 20-day Resolution plans which are fun and easy to follow. You can make choices from their on-line menu to go with the "Resolution Revolution" plan of your choice. Tossed counts the calories and nutritional content so you don't have to, ditches mayo, and uses low GI carbs. But you won't notice the sacrifices you're making, because salads are packed with superfoods and protein.
Pick The Slim-Down to get rid of that festive belly once and for all and discover the new svelte and sexy you. Try The Detox to rebuild the temple that is your body after the excesses of the party season. Or go for The Muscle-Builder by following Tossed's protein-laden plan to make the most of those gym sessions and get your muscles bulging in no time. What's more, when following a Tossed plan in January, you can avail yourself of special offers on discounted gym membership.
For the Slim-Down, Tossed points to the low calorie, low fat, freshly prepared salads, soups and stews, each providing full nutritional information. You can even use the nutritional calculator on line if you are creating your own salad. For the Detox, what better than a Tossed salad, packed with green leafy vegetables bursting with chlorophyll to brush out those toxins. No product at Tossed contains refined sugars and carbs, artificial sweeteners or food additives. If the Muscle-Building plan is your thing, choose the low fat, lean protein options in store, and add protein powder to your Tossed smoothie after a workout.
Even the price of Tossed's uber-wholesome salads is appealing in a credit-crunched January. Starting at £3.65 for Asian Tuna for example, a combination of light tuna, mayo, broccoli, fresh peppers, cashews, pumpkin seeds and coriander tossed in a soy and sesame dressing. Best served with a warm noodle base, the salad, also known as Asian Tuna, is just 372 calories, is low in fat, high in protein, delivers 1.3 portions of daily fruit and vegetables, and can also be served on a bed of leaves for a lower calorie option.
Tossed are located at: 101 St Martin's Lane, Covent Garden, WC2N 4AZ Tel:0207 240 3599; 10 Sheldon Square, Paddington Central, W2 6EZ Tel:020 7289 2516; Monsoon H/O, The Yellow Building, Notting Hill Village, 1 Nicholas Road W11 4AN Tel:020 7243 4103; Harrods102, 102 Brompton Road, Knightsbridge, SW1X 7ZY Tel:020 7581 7020; 31-33 Baker Street, W1J 8EJ, Tel:020 7486 8555; Westfield London, Ariel Way, White City, W12 7GE Tel: 020 8740 9613. On-line order service and office delivery available: www.tosseduk.com.