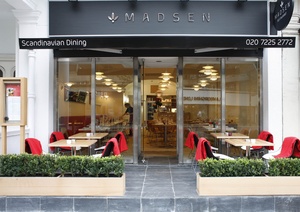 Danish head chef René Madsen puts his own uninhibited spin on the Christmas menu this year, with a buffet of traditional Scandinavian dishes at the newly opened Madsen restaurant. For £26.50 per person, you can discover an array of Nordic flavours to awake your tastebuds to the largely unknown nuances of Scandinavian food, indulging in 12 mouth-watering dishes, served with freshly baked dark rye bread, sourdough and crispbread.
Available on Friday, Saturday and Sunday for lunch and dinner, Madsen's Christmas Buffet shows how traditional ingredients such as herrings can be given a deliciously contemporary twist, such as the popular Three kinds of marinated herrings, served with homemade curry salad and baby potatoes. Also worth trying are two flavoursome specialities, Janssons Frestelse, a creamy potato and anchovy casserole and Frikadeller, Danish meat balls with red cabbage. A 'must' is Gravlax with dill and mustard sauce, as are the Swedish Christmas ham with mustard and the Streaky pork belly with crackling. Leave some room for the Duck thighs with baked apples and prunes for a warming festive taste, and for the dessert, the traditional Ris á l'amande with a warm cherry sauce is a tempting choice. The buffet can also be ordered during the week for parties of 8 or more.
Along with the all-European wine list, there is also an enviable selection of Akvavit snaps and Scandinavian beers to accompany the Christmas buffet. Madsen also offers a private room for parties up to 50 people.
Literally just opened by Charlotte Kruse Madsen, (no relation to the head chef) a talented caterer who has been running her own catering company Madsen Food for two years, the restaurant is at the forefront of the Nordic cuisine revival currently enjoyed in London, and is inspired by the Scandinavian tradition of using wholesome, raw and unprocessed ingredients to produce the finished dish. The emphasis at Madsen is on freshness, simplicity, purity and taste.