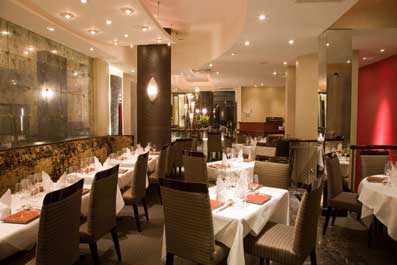 It's Chinese New Year 2009 and to celebrate the Year of the Ox, multi award-winning Kai Mayfair, one of the capital's favourite Chinese restaurants, is serving up an unmissable treat for the celebrations.
The Ox is the sign of prosperity through fortitude and hard work; a fitting association in the current climate. To fit in with this theme, Kai has created a special New Year treat -'Three Dishes with Three Wishes' – that it has aptly named 'Good Fortune', 'Long Life' and 'Prosperity'.
Slices of Salmon Sashimi and Spring Onion Ribbons with a Soy, Chinkiang Vinegar & Sesame Oil Dressing signifies Good Fortune. Raw Fish or 'Yee Sang' in Chinese also means 'an increase in abundance'.
Pork Fillet with Crushed White Pepper and Spring Onions will inspire Long Life. White food is eaten to promote long life and is said to represent the white hair bestowed on those with years of experience.
Finally, Prosperity comes in the appetising shape of Steamed Chilean Sea Bass with Soy Sauce, Spinach, Red Dates and Pickled White Radish. Red dates are traditionally a key ingredient on the tray of eight gifts, which features foods symbolic of good fortune and prosperity and which are in turn offered to guests at New Year.
Mandarin Oranges ('Kam') will also be given away during the New Year period as a symbol of Prosperity. 'Kam' means both mandarin oranges and gold, the ultimate symbol of prosperity.
Ting-Foon Chik
Kai Mayfair will also be hoping to ease the economic gloom by bringing customers news of good fortune courtesy of Ting-Foon Chik. Foon, one of the world's leading Chinese astrologers, will be offering individual readings to diners on 6 February.
Audiences with Foon, whose remarkable insights have been applauded by everyone from CNN, BBC Radio and The Guardian, are extremely popular. Early bookings for these special evenings at Kai are recommended to avoid disappointment.
Kai Mayfair was recently voted the capital's best Chinese restaurant in the £45 and over category by Harden's London Restaurants. The bestseller, viewed by many as the discerning London restaurant goer's bible, says that Kay Mayfair 'inspires the highest acclaim", describing its culinary offering as 'stunning and beautifully presented" and 'backed up by a premium wine list".