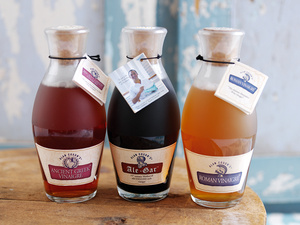 'Kung Hei Fat Choy' or 'Happy Chinese New Year'! The Year of the Ox is celebrated on 26th January and with Chinese households cleaning, repainting and handing out Lai See (lucky money); Alan Coxon has developed a menu for those who want to join in with the festivities.
Food is an integral part of the celebrations and Alan has scoured the Orient to come up with a delicious menu for all to enjoy.
Alan Coxon is one of the most respected chefs within the catering industry and was voted amongst the top 10 TV Chefs of the World in a poll commissioned by BBC Food in 100 countries.
Ancient Greek Vinaigre is from Alan Coxon's Historic Food range and is available across the UK in all good delis. For stockist information, visit www.alancoxon.com or www.cotswoldfayre.co.uk:
• Chinese New Year goes by the Lunar calendar
• Lucky money is given in red packets to children or those who are unmarried
• On New Year's Day, many Chinese do not eat meat as this is supposed to be good karma for not eating anything that has been killed
• There are many superstitions over Chinese New Year such as not washing or cutting your hair as the Chinese for hair sounds like the word 'prosperity'. So, 'cutting hair' could be perceived as 'cutting away prosperity'!
Asian style chicken soup
Fresh, crisp and clean flavours, which is health, very tasty and quick!
175g chicken breast skins removed
450g fresh baby spinach stalks removed and leaves washed
6 slices of pickled pink ginger
4 spring onions finely shredded lengthways
2 cloves garlic finely crushed
1.2 litre chicken stock
1 tbsp lemon juice
1 tsp castor sugar
1 small Thai chilli, seeded and chopped fine
3 tbsp Nam pla (fish sauce)
2 tbsp Alan Coxon's Ancient Greek vinegar
2 tbsp soy sauce
16 leaves of purple sprouting basil, roughly torn
1 tbsp peanuts
30g bean sprouts
Method
1. Combine the chicken, garlic, onion, 1 tablespoon of Ancient Greek Vinaigre, and one tablespoon of Nam pla and set aside
2. In a wok, bring the chicken stock to the simmer and add the chilli, sugar and lemon juice
3. When simmering, gently lower in the chicken breast into the stock along with any of its marinade
4. Cook for 4 – 5 minutes gently
5. Add the spinach and cook for a further 2 minutes or until the chicken has cooked. At the last few seconds, add the purple basil leaves
6. Remove from the heat and add the remaining Ancient Greek vinegar, remaining soy sauce and Nam pla
7. Carefully remove the chicken and slice thinly
8. Pour the stock into bowls, with a good amount of the spinach and top with some fresh bean sprouts
9. Add the slices of chicken and sprinkle with the peanuts
Oriental Lamb Stir fry with bean sprouts and almonds
650g fillet of lamb
2 tsp cornflour
2 egg whites
3 tsp soy sauce
3 tbsp groundnut oil
3 garlic cloves (crushed)
1 x 2 inch fresh root ginger (finely diced or grated)
2 tbsp oyster sauce
3 tbsp Ancient Greek Vinaigre
1 tsp Demerara sugar
2 carrots (finely sliced and cut thinly into batons)
250g bean sprouts
1 chilli pepper finely sliced
6 spring onions (shredded)
1 tsp fresh ground pepper
2 tbsp almond slithers (slightly toasted)
Method
1. Trim the lamb of any excess fat and slice thinly
2. Mix corn flour, egg white, soy sauce and pepper
3. Add the lamb and mix well
4. Heat a wok, or a large frying pan, and then add the oil, garlic and ginger. Let them flavour for 20 – 30 seconds
5. Add the lamb and stir fry for 3 minutes then add the Ancient Greek Vinaigre to de-glaze the pan.
6. Add the oyster sauce, and sugar and cook for approximately 2 minutes
7. Add the carrot, chilli and spring onion and cook for a further 2 minutes
8. Finally add the bean sprouts and cook for 1 min
9. Adjust seasoning and serve immediately with sweet and sour rice
Sweet and Sour Rice
450g Jasmine rice
750ml (3 cups) chicken or vegetable stock
100ml natural yoghurt
50g butter
1 tbsp clear honey
Juice and zest of ½ lime
1 tbsp Ancient Greek Vinaigre
Salt and pepper
Method
1. Rinse the rice thoroughly to remove any starch around the rice
2. Place the butter into a heavy based saucepan and add the rice and stir thoroughly, add the stock and stir once
3. Bring to the boil un-covered, over medium heat
4. Reduce the heat to simmer and cook for 12 minutes
5. When ready all the water should have been absorbed and evaporated, remove from heat and cover with a lid to rest for a couple of minutes
6. Just before serving, add all the remaining ingredients and stir well.