Warburtons is toasting a decade of National Bread Week, which is kicking off from 3rd May to 9th May 2010. This year is all about celebrating the joys of bread and one of our great British traditions – picnics! Whether you're having an intimate picnic for two, a family gathering with the kids or an al fresco party, Warburtons has some delicious, healthy sandwich recipes for any picnicking occasion. So pack up your hamper, shake out the blanket and head out to the great outdoors…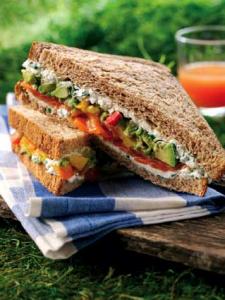 THE ULTIMATE PICNIC SANDWICH
Specially formulated by experts at Warburtons, this picnic sandwich has the perfect combination of ingredients that keeps the bread deliciously soft and fresh and wards off pesky insects and mosquitoes too!
The low-fat cream cheese helps form a barrier to prevent the bread from absorbing moisture from the filling and becoming soggy! The chives mixed with the low fat cream cheese not only make a delicious alternative to butter or spread but can also help to ward off insects! A great way to complete your ultimate sandwich experience is to serve with a sprig of fresh mint and a glass of pink grapefruit juice. The mint is a great finishing touch to repel mosquitoes and pink grapefruit juice is the perfect, refreshing summer drink full of super nutrients.
Makes 1 sandwich
Ingredients:
2 slices of Warburtons Wholegrain Goodness loaf
1 tbsp low-fat cream cheese
½ tsp chopped chives
40g/1½oz smoked salmon slices
½an avocado, peeled and stoned
Squeeze of lemon juice
2 cherry tomatoes, roughly chopped
50g/2oz roasted yellow and red peppers, sliced
Pinch of chilli flakes (optional)
Mix the low-fat cream cheese with chopped chives and spread on a slice of Warburtons Wholegrain Goodness, right up to the edges. Add the slices of smoked salmon, which is full of Omega-3 and great for helping to keep the heart and circulation healthy. Next, mash half an avocado with a squeeze of lemon juice, chopped tomatoes, peppers and chilli flakes. Place on top of the salmon (if using two pieces of salmon place one underneath and one on top of avocado filling). Top with a slice of Warburtons Wholegrain Goodness, spread with low-fat cream cheese with chopped chives.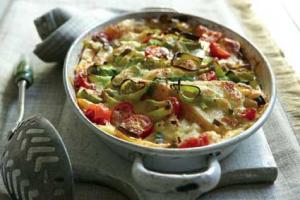 Cheddar, Leek and Cherry Tomato Savoury Bread & Butter Pudding

This cost-conscious savoury meal makes the most of bread that might be a little past its prime. It uses bread from a 3-4 day-old loaf to its best advantage to make a fantastic main course meal that's suitable for vegetarians.
Serves 4
40g (1 1/2oz) butter
2 medium leeks, sliced
6 slices Warburtons Soft White Farmhouse, Premium Brown or Wholemeal Medium from a 3-4 day old loaf, cut into triangles
12 cherry tomatoes, halved
150g (5oz) mature Cheddar cheese, grated
600ml (1 pint) milk
3 medium eggs
Freshly ground black pepper
Grease a 1.5 litre (2 1/3 pint) baking dish with a little butter. Melt the remaining butter in a frying pan and gently fry the leeks for about 5 minutes, until softened.
Put a layer of bread in the base of the baking dish. Scatter half the leeks and cherry tomatoes on top, then sprinkle with half the grated cheese. Arrange the remaining bread triangles over the surface, followed by the rest of the leeks and cherry tomatoes.
Beat the milk and eggs together and season to taste. Pour evenly over the bread, then sprinkle with the remaining cheese. Leave to stand for 20-30 minutes.
Preheat the oven to 190°C, fan oven 170°C, Gas Mark 5. Bake the pudding for 30-35 minutes, until puffed-up and golden brown. Serve at once.
Cook's tips:
Leave the pudding to stand for just 10 minutes if you haven't got much time. Alternatively, assemble it a few hours in advance, ready for baking when you need it.
Try using different cheese – Red Leicester or Double Gloucester work well too.
For non-vegetarians, fry some chopped cooked ham or bacon with the leeks for a change.
Instead of cherry tomatoes, use some roasted peppers from a jar, drained well and chopped into bite-sized pieces.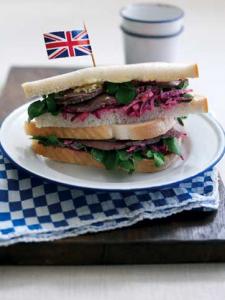 BEEF AND BEETROOT GOODNESS SANDWICH
Celebrate the best of British with this oh-so-scrumptious sandwich, filled with juicy roast beef and delicious beetroot, apple and red onion coleslaw. Eating is believing!
Serves 2
Ingredients
4 slices Warburtons White Farmhouse
A little horseradish sauce or creamed horseradish
Few sprigs fresh Hampshire watercress
2 generous slices lean British roast beef
1 small fresh beetroot, peeled and grated
1 English apple, cored and grated
1/2 red onion, finely sliced
2 tbsp low fat mayonnaise or thick natural yogurt
Method
Spread the slices of Warburtons Farmhouse with a little horseradish sauce or creamed horseradish. Share the watercress between two of the slices and arrange the beef on top.
Mix together the grated beetroot, apple and red onion and mix in the mayonnaise or yogurt. Pile on top of the beef, then sandwich together with the remaining slice of bread. Yum!
Top tip: Use cooked beetroot if you can't find fresh – it works well, though will have a slightly more piquant flavour.
Visit www.welovebread.co.uk for more delicious picnic recipes and information on how to vote for your favourite picnic spot.