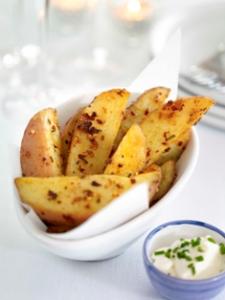 Created by Michel Roux jnr. these are simple to make and would be a tasty treat on their own, or to accompany other dishes.
Serves 4
Ingredients
6 medium Rooster par boiled and quarted lengthways
3 teaspoons chilli flakes
2 cloves garlic crushed
1 teaspoon ground coriander
1 teaspoon ground cumin
2 teaspoons sea salt
3 tablespoons olive oil
2 teaspoons chopped rosemary
Method
Mix all the spices and herbs together with the oil. Dip each wedge in this fragrant oil and lay on a roasting tray. Place in the hot oven at 180c for 10 minutes then turn them over. Return to oven until golden on both sides, sprinkle with sea salt and serve.