'Gold Cups' to enjoy at the races
Sophie Michell says, "The Gold Cups are gorgeous for lunch with a dressed salad. You can also replace the ham and cheese with smoked salmon or wild mushrooms. Plus they can be made with little crusty rolls or deep English muffins, too. They are very versatile and the perfect accompaniment to a day at the races."
Posh Birds Gold Cups with ham, truffle and quail eggs recipe
Serves 6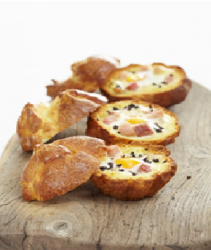 Ingredients
200ml double cream
150g gruyère cheese
Sea salt and freshly ground black pepper
200g thick-cut cooked ham
1 tsp Dijon mustard
1 tsp chopped truffle pieces
1 tsp truffle oil
6 brioche rolls
6 Posh Birds quail eggs
Method
1 Preheat the oven to 180°C/160°C fan oven/gas mark 4. Pour the cream into a small saucepan and bring to the boil, add the cheese, season and simmer for 5 minutes until thickened, stirring all the time.
2 Cut the ham into little pieces and add to the cream mix, along with the mustard, truffle pieces and truffle oil. Set aside.
3 Put the brioche buns on a board and cut off the top. Then cut inside the edges and scoop out the inside to make a little cup.
4 Divide the ham and cream mixture among the six buns, using the spoon to make a dip in the middle. Crack a quail egg and pour into the hollow. Place on a baking sheet and bake in the oven, with the lids to one side for 20 minutes.
5 When the eggs have just set, serve the brioche buns warm with some salad or cold as part of a picnic.