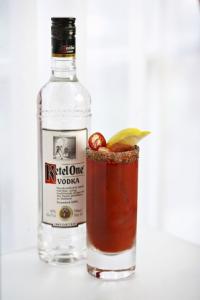 London Cocktail week is fast approaching and there will be a host of shows, classes, tastings and pop-up bars for London drinkers to enjoy from 11th-17th October.
To get involved in London Cocktail Week you've got to get that all important wristband. Don't worry, it's easy to get hold of one but you must be 21 or over. Click the link below and enter your name and email address
They'll send an e-ticket which you then take to the London Cocktail Week Diageo Reserve Bar at Selfridges where they'll give you your wristband.
With the precious wristband you'll be able to enjoy exclusive London Cocktail Week drinks for £4 in 50 of London's best bars, free transport on the special routemasters and deals and discounts all over town.
Ketel One vodka are recommending that whilst you're at the Diageo Reserve Bar you might like to try a super smooth, super premium Ketel One vodka Bloody Mary which will be being served from 11am-9pm everyday during London Cocktail Week.
Apparently lots of people are under the misapprehension that a Bloody Mary doesn't require top quality vodka but Ketel One say that it's important to really get the best ingredients you can find. They're proud of their vodka and say 'Ketel One is an exceptionally crafted vodka. The foundation of this discerning taste is the small batch, traditional pot still distillation, in a recipe inspired by 10 generations of the Nolet family's spirits distilling expertise. There's also a lemon version – Ketel One Citroen, which is created by infusing Ketel One vodka with natural citrus essence.'
To make your very own delicious Bloody Mary have a go at this recipe:
The Ultimate Ketel One Bloody Mary
50ml Ketel One vodka (or Citroen)
6 dashed Worcestershire sauce
3 dashed hot sauce
150ml tomato juice
Pinch celery salt
Freshly ground black pepper