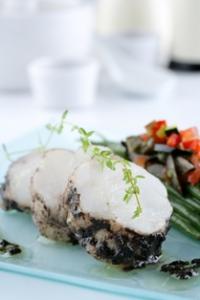 Prep time: 45 minutes
Servings: 4
Ingredients:
• 4 pieces of monkfish weighing 200 grams
• 350 grams of black 'cacereña' olives
• 300 grams of green beans
• 1 ripe tomato
• 1 spring onion
• 400 ml olive oil
• salt
Preparation:
Remove the pits from the olives, set aside 8 to 10 of them and mash the rest, leaving them in a fine paste. In a pot add the olive oil and place all of this on the stove, letting it glaze (at approximately 80º) over a low fire for 3 minutes.
Placed the seasoned pieces of monkfish in the oil from the olives and let them glaze for 10 minutes, but keep them from frying altogether. Meanwhile, cook the green beans in boiling water with salt. Once cooked, drain and cool them. Peel the tomato, remove the seeds and dice. Chop the spring onion, cut the rest of the olives into thin strips and mix all of this in a bowl with oil and salt. Set aside.
Remove the monkfish from the oil, cut into slices and place on the dishes. Serve with the green bean salad, seasoning with the olive paste.