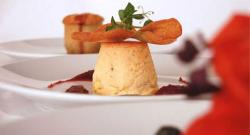 We know it's the season to stuff yourself stupid, but when the guilt kicks in you'll want feel better about yourself and one great way to do that is to eat vegetarian. To help out we have some tasty, meat-free recipes from Vanilla Black London's only fine-dining vegetarian restaurant and one recommended in the Michelin Guide.
Chef and owner Andrew Dargue is confident his unique creations, including Poached Duck Egg and Ribblesdale Pudding and Sweetcorn Créme Brulée and Smoked Paprika Biscuits, can convert even the most die-hard steak-lovers.
Andrew explains the inspiration behind Vanilla Black, "As a vegetarian myself, I often find the non non-meat options in restaurants to be bland and uninspiring. I wanted to show that it is possible to produce exceptional dishes without using meat or fish".
"We strive to create unusual combinations with just as much, if not more, flavour than a traditional meaty meal. I want to invite diners who would never normally choose vegetarian to be adventurous and put us to the test".
Try these recipes for size all available as handy pdfs

Celeriac, Sage and Hazelnut Dauphinoise.pdf
Chocolate and Peanut Parfait.pdf
Chocolate Brioche and Poached Pear.pdf
Baked Beetroot Terrine and Horseradish Cream.pdf
www.vanillablack.co.uk Vanilla Black, 17-18 Tooks Court, London, EC4A 1LB 1