No matter what dizzy heights our 'tropical' weather might reach over the Diamond Jubilee Bank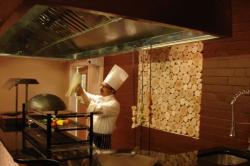 Holiday, a dollop of congealed Coronation chicken's about as exotic as it'll get at most of Queenie's street parties. Do your tastebuds a favour, then, and skip the alfresco free-for-all in favour of Namaaste Kitchen's Jubilee menu. They'll even chuck in a patriotic Union Jack napkin.
The debatable glory of the British Raj came to an end on 14th August 1947, when India finally gained her long-fought independence. Although human relations may have been less than convivial, the colonials had largely become deep and fervent fans of the native cuisine- a taste which was to pervade the British imagination back home, remaining undiminished right through to the present day.
Mulligatawny soup was, and is, an enduring favourite, the Raj rendition as far removed culinarily as geographically from its Tamil ancestor. Translating literally as 'pepper water', a fiery broth became a richly spiced, meat-based pottage, as at home in a bright red tin as on Indian restaurant menus from Edinburgh to Emsworth. At Namaaste, the mulligatawny is, indeed, almost tawny in hue- tarted up with slivers of chicken and quality Basmati. Nice.
Kedgeree might just be the best hangover cure ever- perhaps first realised by officers stationed in Calcutta after a night on that preferred Indian tipple, whisky. Starting life as Bengali kitchuri- a nutritious veggie dish combining lentils and rice, the addition of fish- smoked haddock, for preference, and perhaps an egg or two, turned it into a Raj gentleman's treat. Sabir Karim's version, meanwhile, is hearty with salmon and cod.
There's more fishy stuff on the menu in the form of a decent mackerel Riechard. Although the Brits tried their hardest to deny the Portuguese presence in India throughout their rule, it was precisely this group of invaders they had to thank for the fiery seafood masala- as indeed for the authentic version of that boozed-up curry house favourite, the vindaloo.
The 1954 coronation was the perfect opportunity for newly returned and spiced-up memsahibs to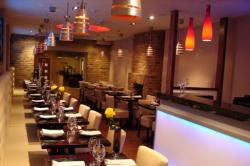 demonstrate their nattiest store cupboard secret- curry powder. And what better way to please hubby than with a fruitily spiced, creamy sauce cloaking cold morsels of chicken? And lo, Coronation chicken was born, appearing on buffets from the ritzy to the low-rent ever since.
Mostly, admittedly, the low-rent end of the spectrum. So it's with relish we tuck into the Anglo-Indian Captain's favourite veal curry- tender meat in a sauce improving on, and clearly inspired by, the classic. And, contrary to the old adage, this is a dish best served hot. Masala lamb shanks also jazz up a hoary gastro-staple, and the ever-dire-sounding chicken liver pate delivers a coarse, meaty and thoroughly savoury preparation- a proper treat paired with grilled apple.
Bread and butter pudding may be perceived as belonging in the nursery, but historically it was a dish fit for kings in the Moghul Courts- under the alias of Shahi Tukra-where it was considered just a bit special. Fit for a Queen, one might say. For pud, I'm saying a warm 'Namaaste' to a nutmeg-gy, eggy Anglo-Indian hybrid, made all the more regal with a judicious application of pistachio kulfi.
During the Raj, we writers were considered somewhat disparagingly as mere 'brush-wallahs'- impoverished, low status curiosities certainly not afforded membership to exclusive private clubs and parties. But I'm in at Namaaste Kitchen this Jubilee, mercifully spared the ubiquitous and dubious joys of bunting and cheese-and-pineapple on a stick. And that alone is accolade enough for me.

The Anglo-Indian Jubilee menu is available from 2-5 June at Namaaste Kitchen and its sister venue, Salaam Namaste