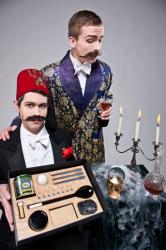 With Pancake Day coming up on the 8th of March, the Jelly Mongers Bompas and Parr have once again teamed up with Lyle's Golden Syrup to create "A box of food and magic".
It is the world's first magic set that uses only edible ingredients. Each kit is handmade, set in laser-cut plywood and contains a miniature edible laboratory of potions, syrups, powders and pipettes. We're told that if you follow the secret instructions, you can make glow in the dark pancakes, create swirling fractal patterns and even turn your pancake topping into real gold.
The kit goes on display exclusively at Harvey Nichols in time for Pancake Day, but Bompass & Parr are holding an in-store Magic Pancake event on Monday 28th February, where you will have the opportunity to win one of the ten handmade magic kits. The event will take place at The Fifth Floor Café in Harvey Nichols from 6.30pm. Tickets are £45 a head and include cocktail on arrival, three course dinner and the chance to win one of the limited edition Bompas & Parr magic boxes. To book please contact the fifth floor events' manager Novella by emailing na@harveynichols.com.
If you can't make the Bompas and Parr event at Harvey Nichols, the Jelly Mongers have also provided us with some Pancake Day recipes for your own kitchen. You can find these here.