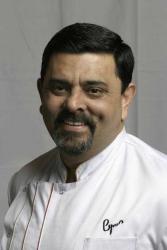 Cyrus Todiwala is proprietor and executive chef at the acclaimed Pan-Indian Cafe Spice Namaste in London's East End. This Monday 26th June he'll be a hosting a special evening where a Slow Food 'tasting menu' of his finest dishes will be on offer.
Cyrus is one of the most well respected chef's cooking Indian food in the UK today. He has a host of awards under his belt, was awarded an MBE in 2000 and was this year awarded an OBE in the Queen's New Year's Honour's list.
Indian food doesn't come much better than the food served at Cafe Spice Namaste. Time Out say "If there is a God, the canteen in heaven will be run by Cyrus Todiwala". Anyone who's ever eaten there will know that to be the case too!
The Slow Food tasting menu will combine Cyrus' inspirational food with the ethos of the Slow Food movement which is all about "food should tastes good, is produced in a clean way which fully respects the environment, human health and animal welfare, and that producers are paid a fair wage."
Guests at Monday's not to be missed event will taste several small but special dishes whilst Cyrus explains the dish, the ingredients, his inspiration behind it and of course his knowledge and passion for food.
Most of the ingredients in the food on offer will be British and there'll be a strong emphasis on Cyrus' trademark mixture of classic Indian food with a unique twist.
Cost: £29 which includes the full tasting menu and a glass of lassi.