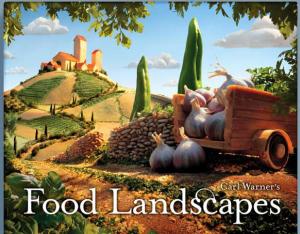 One of London's most prominent landmarks will play host to an exhibition of extraordinary 'foodscapes', as British photographer Carl Warner launches a series of his internationally acclaimed food landscapes throughout the upper floor of St Pancras International on Thursday 14 October.
The event starts at 7am with the unveiling of the 'Chocolate Express' a real-life and previously unseen chocolate landscape depicting a classic steam locomotive that would once have graced the Barlow Shed of St Pancras International. Passengers will be advised not to depart just yet as the unveiling kicks-off a day long photographic exhibition (7am-10pm) in which a series of fourteen foodscapes will be on display for the first time on canvas and throughout the station, to celebrate the launch of 'Carl Warner's Food Landscapes' published by Abrams (£15.99).
Visitors to St Pancras International can watch Carl in action throughout the day as he builds on his live foodscape the 'Chocolate Express', view the stunning photographic exhibition and talk to Carl first-hand about the work that has led him to become a global phenomenon. The FREE event also offers an opportunity to purchase an early copy of 'Carl Warner's Food Landscapes' at Foyles St Pancras, located on the lower floor of St Pancras International and have it signed by Carl Warner throughout the day on the upper floor. The perfect present, 'Carl Warner's Food Landscapes' will delight any food-lover this Christmas.
Often the subject of global e-mailings, Carl Warner's foodscapes create mass excitement. Constructed entirely from fruits and vegetables, cheeses, breads, fish, meat and grains, at first glance the landscapes look real and its only on second glance that the viewer realises that the scenes are made entirely out of food. Compared to a modern day Guiseppe Arcimboldo, Carl Warner offers visitors to St Pancras International a very different way of getting their 5 a day.