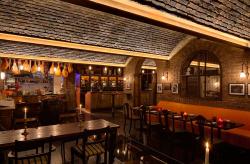 Cava has long been the poor relation of the fizz family, but that looks set to change with the opening of the UK's first dedicated cava bar which is tucked away in Blackfriars Lane near St Paul's. Copa de Cava's deep, arched brick ceiling is reminiscent of the bodegas in Spain's cava-producing region of Sant Sadurní, and lies underneath Camino San Pablo, the fourth and latest addition to Richard Bigg's successful Camino mini-chain of Spanish restaurants in the capital  
Bigg has already  championed the underdog in the drinks world with the award-winning Bar Pepito, which launched in 2008 in King's Cross as the UK's first dedicated sherry bar
"We put sherry back on the map so we decided it was time to do the same with the much underestimated cava" he said at the launch of Copa De Cava  which will stock a selection of  28 cavas including the finest Brut, Reserva and Grand Reserva types
The menu also includes 8 cavas served by the glass, which start from £4.75.
Guests can also choose from the'Copa de Cava To Go' menu, which features all 28 cavas to be enjoyed at home or given as gifts as well as the short selection of still wines mainly from Penedés, the main cava production area
To complement the cavas there are meat, fish and vegetarian pairing dishes, which include navajas (razor clam, broad beans and chorizo) and carpaccio of fillet steak with Lilliput capers and manchego shavings. Seafood and charcuterie platters are also available to share.
For those seeking more substantial Spanish fare, Camino San Pablo upstairs offers a full menu of Spanish tapas classics including garlic tiger prawns (Gambas al Ajillo) and Jamón pata negra alongside seasonal dishes such as grilled asparagus with romesco (Espárragos) and grey mullet served with fennel and cherry tomato salsa (Mújol).
The interiors of both restaurant and bar are decorated with the Camino trademark quirky artefacts sourced from various parts of Spain One of Copa de Cava's standout features is the glass panel floor, which allows guests to peer down into the cellar to see thousands of ageing cava bottles. This contemporary design twist provides an insight into how the sparkling wine is stored and matured in a cellar or a'cava' as is the tradition in Spain.
NB Copa de Cava is extending 50% off guests' food bill all of next week (Monday 20th – Friday 24th May) as a little launch treat.
33 Black Friars Lane, London EC4V 6EP
CAVA – THE LOW DOWN
Cava is named after the deep underground caves and tunnels, in which the bottles are stored during the fermentation process. It is always made in the traditional method, metodo tradicional, in the same way as champagne. The process is laborious and time-consuming but the resulting range and complexity are considered worth the effort
To be called cava it must be made in this way. 95% comes from Penedès in Catalunya, but it can also be made in a few other regions.
CAVA STYLES
BRUT Minimum ageing 9 months
Fresh with fruity flavours, lively and light.
RESERVA Minimum ageing 15 months
Rich and structured aromas, intense and strong.
GRAN RESERVA Minimum ageing 30 months
Aromas of bakery, confit fruit, mature and generous
with long finish.