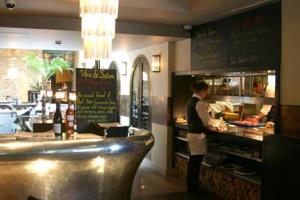 Galvin Café a Vin, Spitalfields, launches cigar terrace
The recent hot weather has given Galvin Café a Vin in Spitalfields the chance to unveil their slick new cigar terrace. Suitably decked out with comfy chairs and olive trees, the terrace provides a stylish new spot to keep cool in the city and sample the fine cigars on offer, ranging from Romeo y Julieta Petit Julieta (£6 each) to Bolivar Royal Corona Tubos (£16) to Montecristos Sublimes Limited Edition 2008 (£26). For the non-smokers, the recently relaunched Café a Vin also offers a full menu including specials from a wood-fired oven, oysters and charcuterie, as well a range of natural wines from the new list, both of which can be enjoyed on the terrace throughout the day.
Family Sundays at Galvin La Chapelle
Already critically acclaimed as an ideal venue for impressive business lunches, hot dates and major celebrations of any kind, Galvin La Chapelle has added another string to its bow with a new family Sunday lunch complete with Sunday roast and traditional board games. A three course set menu featuring tempting options such as velouté of English asparagus with truffle Chantilly, roast shoulder of new season lamb, red cabbage and potato fondant and Kentish strawberries, crème fraîche and chopped pistachio, is available at just £24.50 per person, with a proper Sunday meal also available for children (priced at £9.50 for two courses). Sunday papers, toys and classic board games will keep children (and adults) entertained.
Accordion player Fifi La Mer also performs once a month during Sunday lunch, forthcoming dates are:
Sunday 4th July
Sunday 1st August
Sunday 5th September
Sunday 3rd October