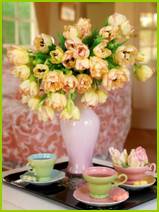 To celebrate Mother's Day weekend this year, The Goring in Belgravia – www.thegoring.com – the oldest family-owned hotel in London, will be awash with tulips from Friday 20th – Sunday 22nd March. The tulips will be flown in fresh from Holland by the Netherlands Flower Bulb Information Centre and will be displayed throughout the hotel.
There will be a special Mother's Day Tulip Tea every afternoon from 3pm-5pm. Guests will be greeted with stunning displays of fresh tulips and everyone will be given a beautiful complimentary bunch to take home as a memento.
Mothers' Day Tulip Tea at The Goring will be reassuringly traditional and an experience in its own right, with exquisite finger sandwiches, home-made scones and delectable fresh pastries. Tea is served on the elegant and relaxed Terrace, with views over The Goring Garden – under the watchful eye of a portrait by John Singer Sargent of Lady Eden who, rather appropriately, was the mother of Prime Minister Anthony Eden (above left).
Jeremy Goring, the fourth member of the Goring family to run The Goring since the hotel opened 99 years ago said:
'We Gorings love to mark special family occasions and we also love a tulip or two, so what could be better for Mother's Day 2009!"
Afternoon Tea starts at £25 per person.
For reservations please call: 020 7396 9000 www.thegoring.com
The Goring, Beeston Place, Grosvenor Gardens, London, SW1W 0JW
Fresh tulips are complimentary courtesy of
The Netherlands Flower Bulb Information Centre
Friday 20th – Sunday 22nd March, 3pm till 5pm