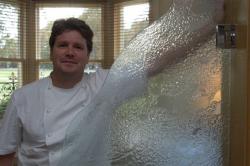 Two Michelin starred Chef Daniel Clifford, chef patron of Midsummer House in Cambridge, has arranged for four other Michelin starred chefs to join him in creating what is being heralded as a 'once in a lifetime gastronomic extravaganza' at Midsummer House, in aid of Children In Need.
For this remarkable five days in November each chef will host one evening in which they will bring their unique culinary style to Midsummer House, having designed their own five course tasting menu. These top chefs will be in the kitchen on their evening, cooking the menu, supported by the resident Midsummer House Kitchen staff and will be available to talk to diners during the evening. On all five evenings the menu will be accompanied by a flight of wines to match each course and from the £130 per head ticket price £40 will go to the Children in Need charity.
This unique event begins on Tuesday 17th November and culminates on Saturday 21st November. The chefs, who have committed to the event and the cause, are all giving their time freely. The dates their menus will be served at Midsummer House are as follows:
Tuesday 17th November – Claude Bosi – from Hibiscus, London
Wednesday 18th November – Paul Cunningham – from The Paul, Copenhagen
Thursday 19th November – Glyn Purnell – from Purnell's, Birmingham
Friday 20th November – Daniel Clifford & Adam Simmonds – from Midsummer House, and
Saturday 21st November – Tom Kerridge – from Hand & Flowers, Marlow
Table bookings will be available from 7.00 pm-9.30 pm each night, with a maximum individual booking of a table for six people. So, if you would like to take advantage of this unique opportunity, to make a reservation diners should contact Midsummer house by 'phone on: 01223 369 299 from Monday – Friday 9am-6pm.
This is an excellent cause and a great opportunity for customers to sample the dishes created by 5 great chefs at one location.
Midsummer House is part-owned by The Crown Group and in addition to this specific fundraising event, Children In Need will receive all the money raised from the Crown Foundation, The Crown Group's own charity set up to raise money for charitable causes. Further information on the Foundation can be found at www.crown-foundation.co.uk
Midsummer House, Danesfield House Hotel, Marlow, Cambridge, CB4 1HD