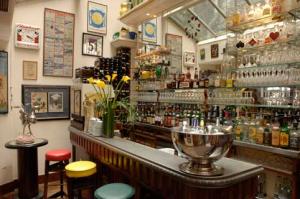 Mon Plaisir is London's oldest French restaurant at over half a century, a rare entity in London's fast-changing restaurant scene. In 1942 Charles de Gaulle dined at Mon Plaisir, and for generations this family-run institution has been serving authentic French cuisine and now, after 50 years, they will be open for lunch service on a Saturday.
Owner Alain Lhermitte commented: 'It is something I have been considering for some time. What really compelled me to do it was walking past the restaurant on a Saturday and seeing people trying to open the door and finding it locked".
The menu mixes Gallic classics with more contemporary dishes. The classical and Parisian menus encompass the staples of Gallic gastronomy: Gratinée à L'Oignon, Coquilles St Jacques, Entrecôte grillée and Coq au Vin, simple dishes cooked to perfection. Diners come from far and wide to enjoy steak tartare from a secret recipe that has been passed down through generations. The set lunch menu, which changes daily, demonstrates excellent value for money: two courses for £14.95 and three courses for £16.95. Sample dishes from the set lunch menu include: cappuccino of mushrooms; roast rump of lamb with Provençal vegetables and black olive jus and pancake with salted caramel sauce and vanilla ice cream. From the à la carte menu: parfait of foie gras with passion fruit jelly and toasted brioche; filet of sea bass with red and yellow cherry tomatoes with condiment jus; duck breast with marmalade of chorizo and apple sauce. Mon Plaisir boasts a French wine list, offering something to suit every pocket..
Owner since 1975, Alain Lhermitte together with his daughter Valerie, take pride in preserving the traditions of Mon Plaisir, whilst constantly striving to improve standards and ensure the restaurant's popularity for the next sixty years. The restaurant comprises four atmospheric dining areas filled with memorabilia from the past, including the famous bar that once graced a Lyon brothel. With the help of their talented and former Michelin-starred chef, Frank Raymond, Mon Plaisir continues to be a favourite amongst locals and tourists alike. Now open on Saturdays, it is sure to become a Covent Garden Saturday lunch spot
Saturday
Midday – 2.15pm Lunch
2.15pm – 3.00pm Brasserie
5.45 – 11.15pm Evening
21 Monmouth Street, London WC2H 9DD (Tel: 020 7836 7243) www.monplaisir.co.uk