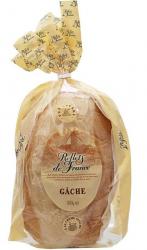 From this Bastille Day, i.e. today, Ocado will, we are told, become one of only a few retailers in the UK to sell the Reflets de France range from Carrefour, offering a selection of French favourites to its customers. Ocado's range of Reflets de France produce includes baked goods such as brioche, galettes and cakes, biscuits, butter and cheeses, tinned goods, pastas, preserves, cured meats and patés, sausages and more. So if you're a bit of a Francophile, and one of those among us who make regular trips to France to stock up on some authentic French produce (err, well and booze, of course) you might need to make that trip to Calais or Boulogne less often that you have in the past.
We had a sneak preview of some of these products, tasting the Gâche brioche loaf, Beurre de Baratte, and the Jambon de Vendee recently, all three were very good. The Gâche brioche was beautifully moist, light with a good texture a good rich flavour and some sweetness, yet not overly sweet. We had it with some of the Beurre de Baratte, a Normandy butter, spread on it. the butter is rich and creamy, but not cloyingly so, it has a firm texture and a good flavour that is enhanced by the little sea salt crystals in it which give a little crunch as you chew. The butter went really well with the brioche, balancing the sweetness nicely, a great combination, all that was missing was some confiture!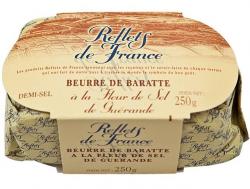 We tasted the Jambon de Vendee sandwiched in white rolls buttered with the Beurre de Baratte and this ham had a really good intensity, it has a 'fruity' slightly sweet smokiness and some spicy notes as well as a soft tender texture. The pack suggests use in a sandwich, or with melon as a starter, but it would also work well cut into thin strips and piled on to little pieces of toast spread with a good cream cheese as a canapé for those days when you're doing a little entertaining.
If the quality of these three products reflects that of the other items available, they are absolutely worth giving a try. And, hey, if it saves you on the cost of those day trips to get your fix of some of your French favourites, you can perhaps afford to buy one or two extra items.
For more information about their Reflets de France range go to the Ocado site